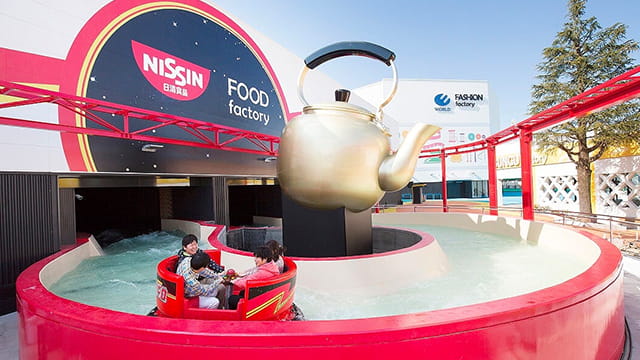 Protect the "NISSIN Yakisoba U.F.O." factory from pranking Kettlers while riding down the rapids in an inflatable boat! When Kettlers show up, you can mash a button repeatedly to get rid of them. The display will change based on the results of the game, so you can enjoy this attraction over and over. Your score is displayed at the end of the ride, so shoot for a high score!
The huge kettle in front of FOOD Factory is a great place for photos!
| | |
| --- | --- |
| Price | 1,000 yen |
| Age Restriction | None |
| Height Restriction | 110cm and taller; chaperone required for those 130cm and under |
| Capacity | 4 people per boat |
| Time Required | About 4 minutes |
| Maximum Speed | 25.2km/h |
| Tidemark | 13m |
※Guests who do not meet the height restriction may not ride this attraction.
Debut in Eastern Japan! "Full-Body Dryer"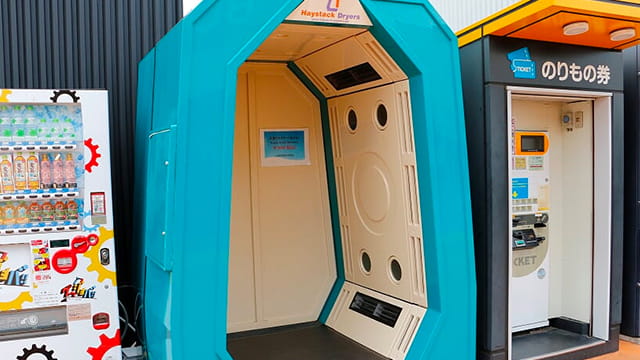 The "Full-Body Dryer" is making its first appearance in eastern Japan!
Up to 5 people can use this at once to dry themselves and their clothes off after getting wet on the rides. It's also cheaper than buying a poncho if multiple people use it at once! Be sure to give it a try!
| | |
| --- | --- |
| Price | 300 yen for 3 minutes |