With five pools and three types of water slides,


Yomiuri Land has more fun than you can handle!

Yomiuri Land Pool WAI has five pools and three types of water slides. Yomiuri Land has a variety of pools, from the lazy river to full-size diving pools! We have the most thrilling waterslides and the slides. Whether you're with your friends, children, or partner, you'll have the time of your life!
Map of Pool WAI Water Park
Click the numbers on the map to see the details of the respective facility.
Pool WAI Water Park

Pool Guide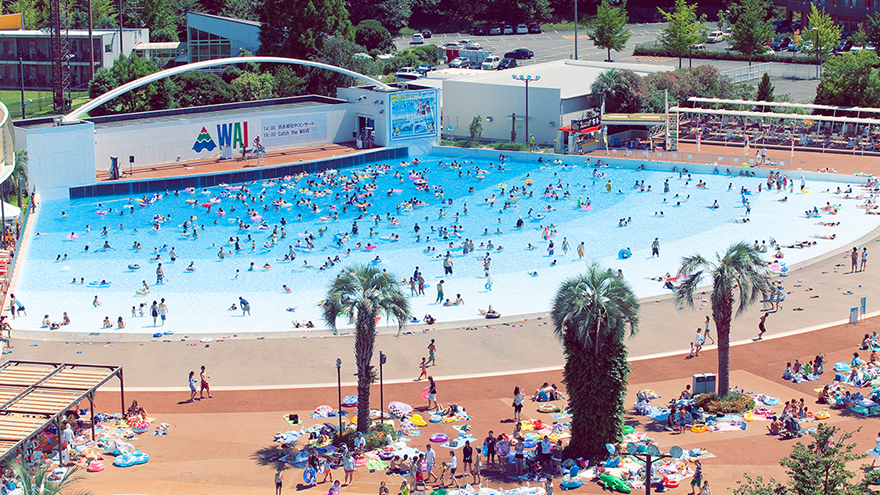 Wave Pool
It even has waves up to 0.6 m high.
Area: 3,323 ㎡, Depth: 0 m–1.4 m, Max. wave height: 0.6 m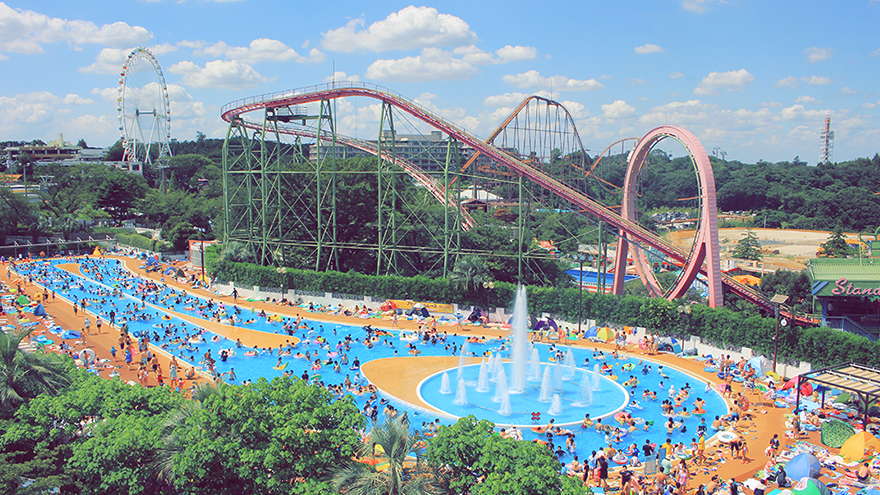 Lazy River
Lazy River with a lap length of 250 m and depth of 1 m.
Area: 1.610 ㎡, Depth: 1.0 m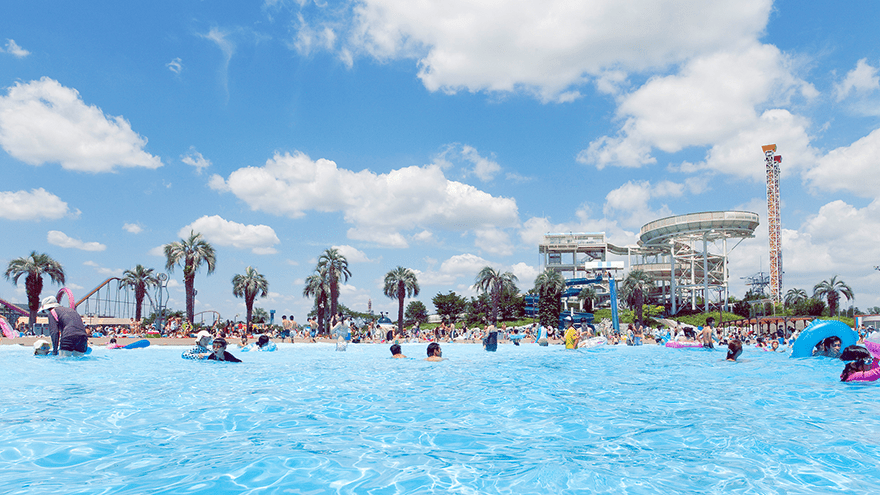 Swimming Pool
We recommend the swimming pool to those who want to swim to their hearts' content.
Area: 1,052 ㎡, Depth: 1.1 m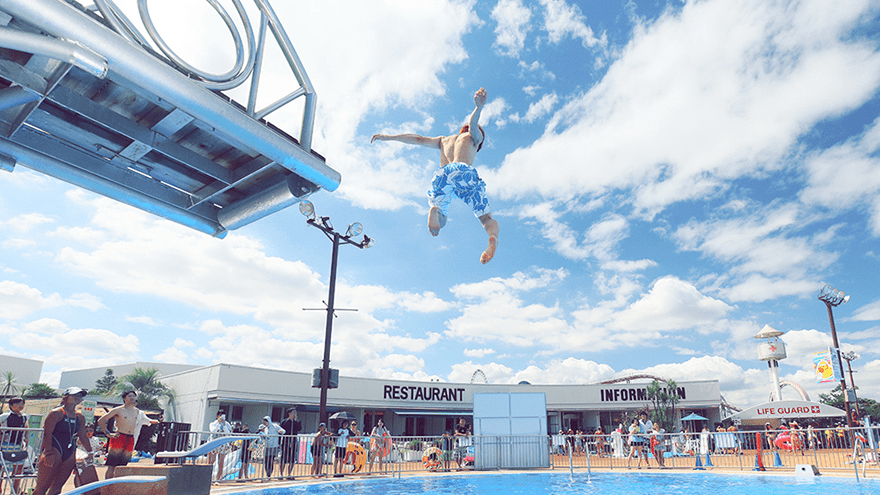 Diving Pool
A full-size, 5-meter-deep diving pool with a springboard up to 2 meters high. The 2-meter high springboard looks like a flying fish!
Area: 150 ㎡, Depth: 5.0 m / Springboard diving platform: 0.5 m, 1.0 m, 2.0 m
---
Restrictions
The following people cannot use the diving pool : 1. Inexperienced swimmers / 2. Those who cannot equalize their ears / 3. Pregnant women / 4. Intoxicated patrons / 5. Those in poor health (high/low blood pressure, heart trouble, etc.) / 6. Those wearing protective equipment (goggles, flotation devices, etc.)
*Yomiuri Land is not responsible for any accidents resulting from your negligence, willful or otherwise.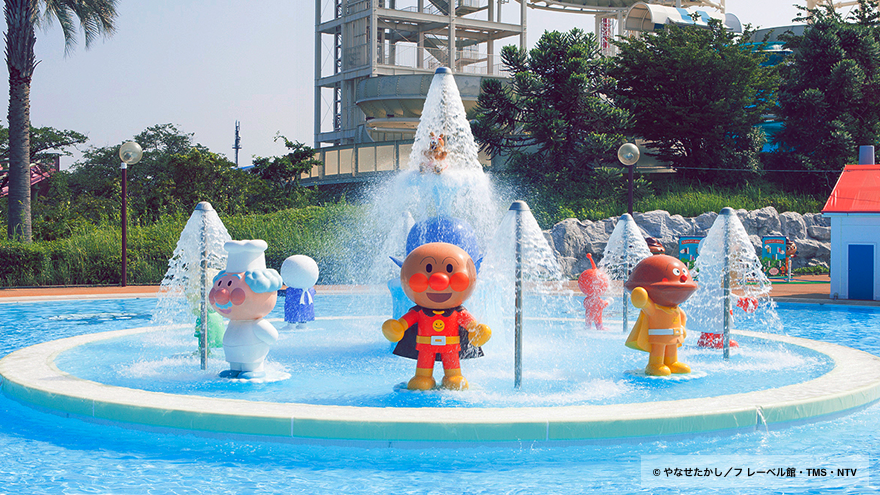 Anpanman Pool
The Anpanman animated show is a huge hit with Japanese children.Anpanman and his cute friends—Japanese kids 's favorite characters—stand near fountains in the center of a pool with a depth safe for toddlers. There are also plenty of playthings for kids to enjoy.
Area: 490㎡, Depth: 0.5–0.6 m
---
Precautions
Due to advice from the local health care center, we do not permit children to enter the water wearing only diapers. If your child is using a diaper, please have him/her wear a swim diaper under his/her swimwear.
Pool WAI Water Park

Water Slide Guid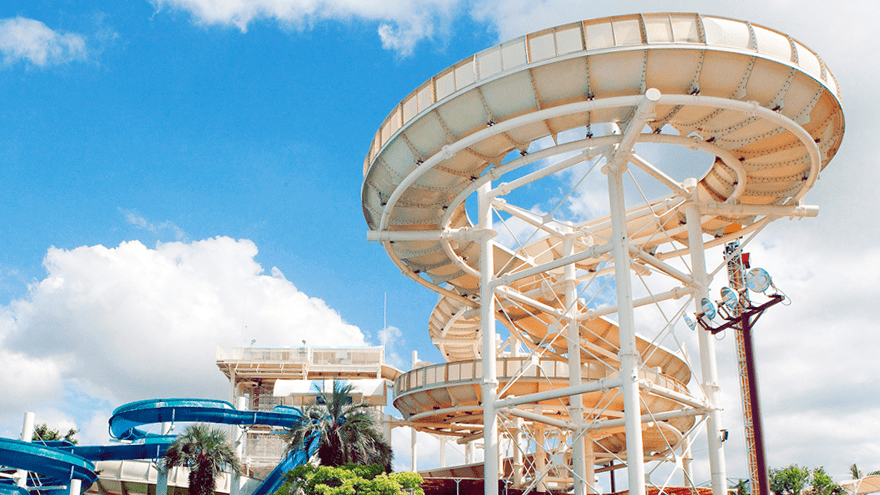 Giant Sky River
4 meters wide! 386 meters long!! 24.5 meters high!!! Ride down this thrilling attraction in a 4-person rubber boat!
Fee: 700 yen/person/one ride *You can also use the pool-inclusive one-day pass
Restrictions: Children over 5 years (Under 10s must be accompanied by someone 12+)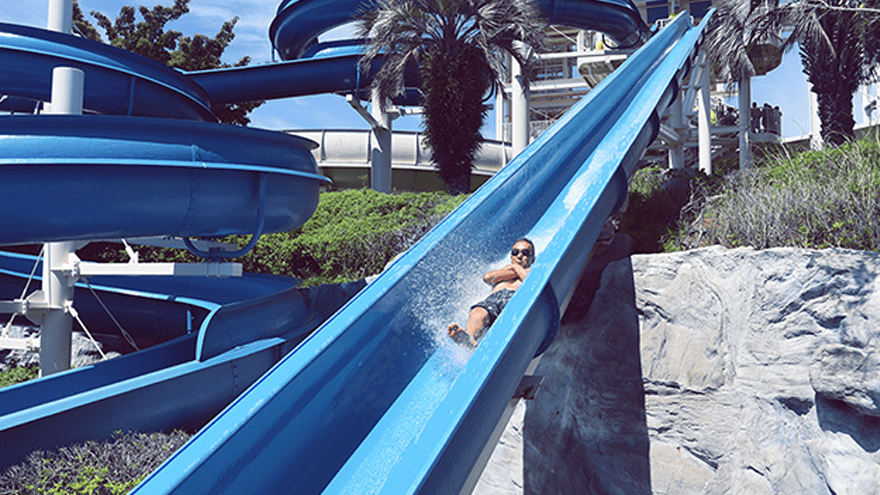 Straight Water Slide and Slalom Slide
◇Straight Slide
41.5 m long with a peak gradient of 28°. Yomiuri Land's classic water slide combines speed and thrills.
Fee: Free
*Restrictions: Users must be at least 110 cm tall. Only one person can go down at a time
◇Slalom Slide
107 m long with a peak gradient of 11°. Experience the variety of curves that you can only find on water slides.
Fee: Free
Restrictions: Users must be at least 110 cm tall
*For 2-person use, both users must be at least 10 years old.
Pool WAI Water Park

Night Pools
Night Pools
Business Hours: 17:30 - 20:30
Sunset is the cue for relaxing music and mood lighting. The pools described above have a completely different atmosphere at night. And there are daily events whenever the night pools are open!
Tickets for entry after 6:00pm are available at a special price. Adults can enjoy a relaxing time to themselves in Yomiuri Land's night pools♡