The cherry blossoms are emblematic of spring in Japan. Yomiuri Land is a signature cherry blossom viewing destination. You will find a profusion of cherry trees in bloom here, as far as the eye can see.
Experience Japanese spring at Yomiuri Land!
Best ways to enjoy Yomiuri Land in spring
A cherry tree lane spanning 180m!
The rows of cherry trees are a must-see at Yomiuri Land. In spring, numerous cherry trees extending out 180m in a row can be seen decorated the landscape. You could take a stroll while you gaze at them or relax in a rest area while looking at them. It's up to you how to enjoy the cherries.
Starting in 2019, we are launching a collaboration with Jewellumination, the most popular illumination display in Japan, to light up the trees! The beautiful illumination at night creates a fantastic atmosphere that's a page apart from what you experience by day.
Take a sky walk over the trees!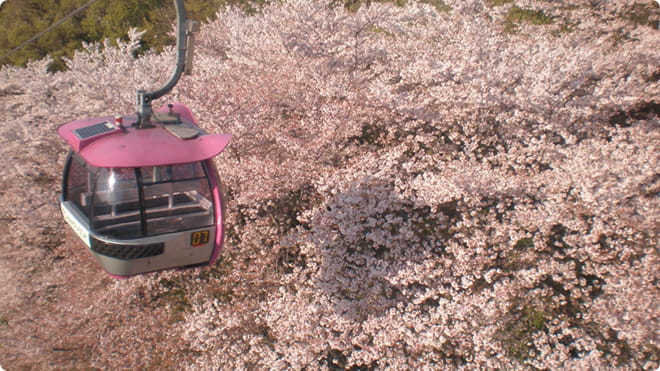 Have you ever wanted to walk above the cherry trees? Yomiuri Land may just let you make that dream a reality. The Sky Shuttle is a cable car that links Keio Yomiuri Land Station and the park entrance. Here you can see the cherries in full bloom from midair. Seeing the expanse of cherry trees below like is like walking on a carpet of flowers! This is a unique experience you will seldom find anywhere else!
Experience the fastest cherry blossom viewing in history -- Recommended attractions
See the cherry trees while ripping through the air on the Bandit roller coaster!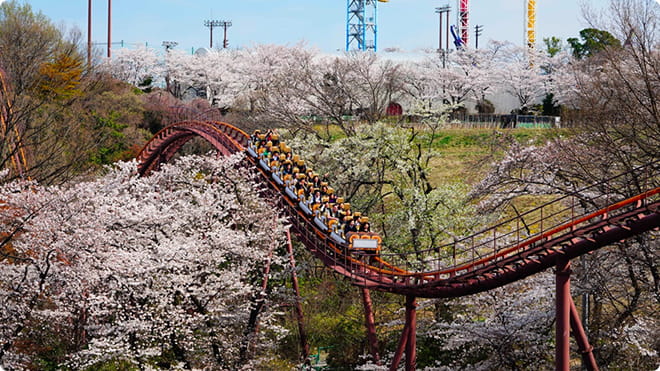 Board the Bandit, Yomiuri Land's popular roller coaster, and experience the cherries while you scream with excitement! You'll speed through the trees at 110km/h. This is a thrilling way to see the trees, and the beautiful landscape that rushes past is sure to wow you!
Think you have what it takes to try the Bandit, which lets you see the cherries at the fastest possible speed?
But wait, there's still more to see!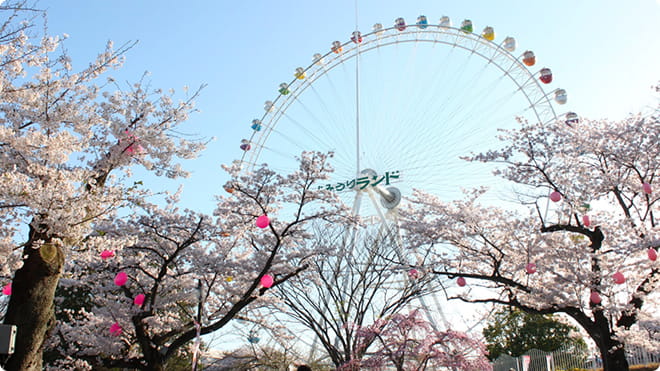 There are still many more sights awaiting you at Yomiuri Land.
The Ferris wheel sits 60m up and lets you see all of the cherry trees at Yomiuri Land in one swoop. On clear days, you can even see through to Shinjuku and Tokyo Tower. If you're especially lucky, you'll also be able to see Mt. Fuji!
Furthermore, a botanical garden is slated to open in 2020! This "floral theme park" features traditional Japanese gardens and other unique aspects of Japanese culture.
How to get the most out of your spring visit to Yomiuri Land
What's the best season to see the cherry blossoms?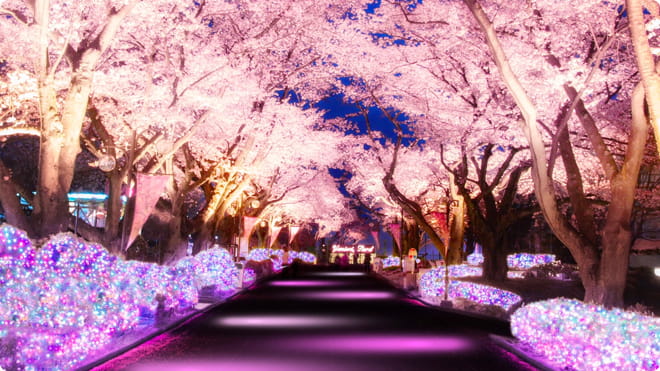 The best season to visit Yomiuri Land and see the cherry trees is late March through early April. The entire park can be seen in full bloom at this time.
In late March, the cherries are illuminated at night, so you can enjoy them in different ways throughout the day.
See More
Where are the best locations to take photographs?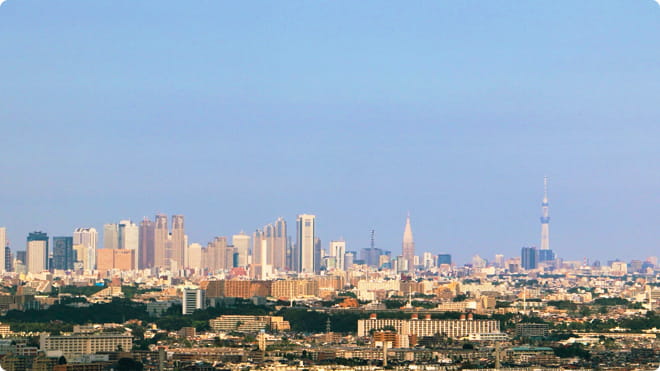 There are many photogenic spots around Yomiuri Land, but the view from the top of the big steps after you enter the Sky Gate ranks highly among them.
You can get a full view of Tokyo and the cherries -- perfect as a backdrop for your next photo!
Can I still see the cherry blossoms if I don't board the rides?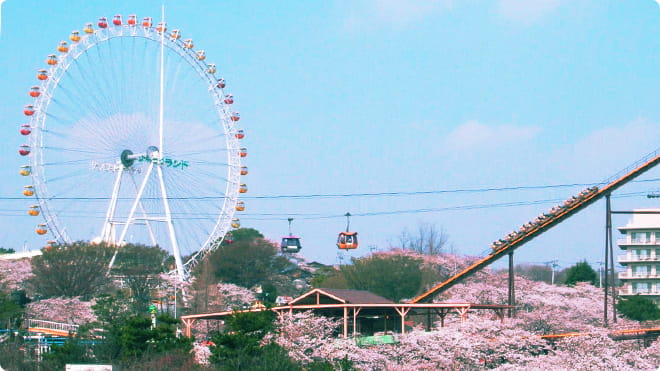 If you don't like roller coasters or heights, don't worry! The cherry blossoms can be enjoyed by all. There are many rest areas and benches through the cherry blossom viewing zone and promenade. You can relax and enjoy the view without the crowds.
Relaxing amid the confetti of cherry petals flitting through the air is in and of itself a wonderful experience!
Conclusion
This concludes the summary of how to make the best use of Yomiuri Land in spring.
Doesn't just thinking about it get you excited?
Yomiuri Land has many unique flower viewing spots that you won't find anywhere else. "Just seeing the flowers is not enough!" Does that sound like you? If you want to see and do something different from the norm, definitely check out Yomiuri Land.
Come to Tokyo's biggest amusement park and let's enjoy tons of rides and cherry trees !