*The night event "Jewellumination" is held only during the winter season. Please check the Calendar for more information.
Yomiuriland hosts "Jewellumination," the only illumination event in the world that features "glittering jewel-toned lights." It's a romantic event that's perfect for dates!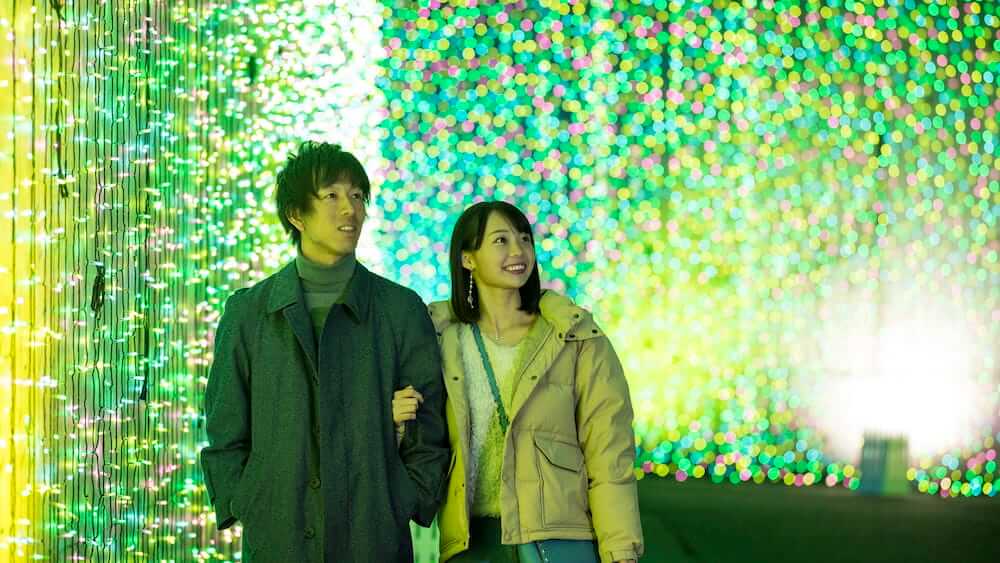 Let's give it a visit!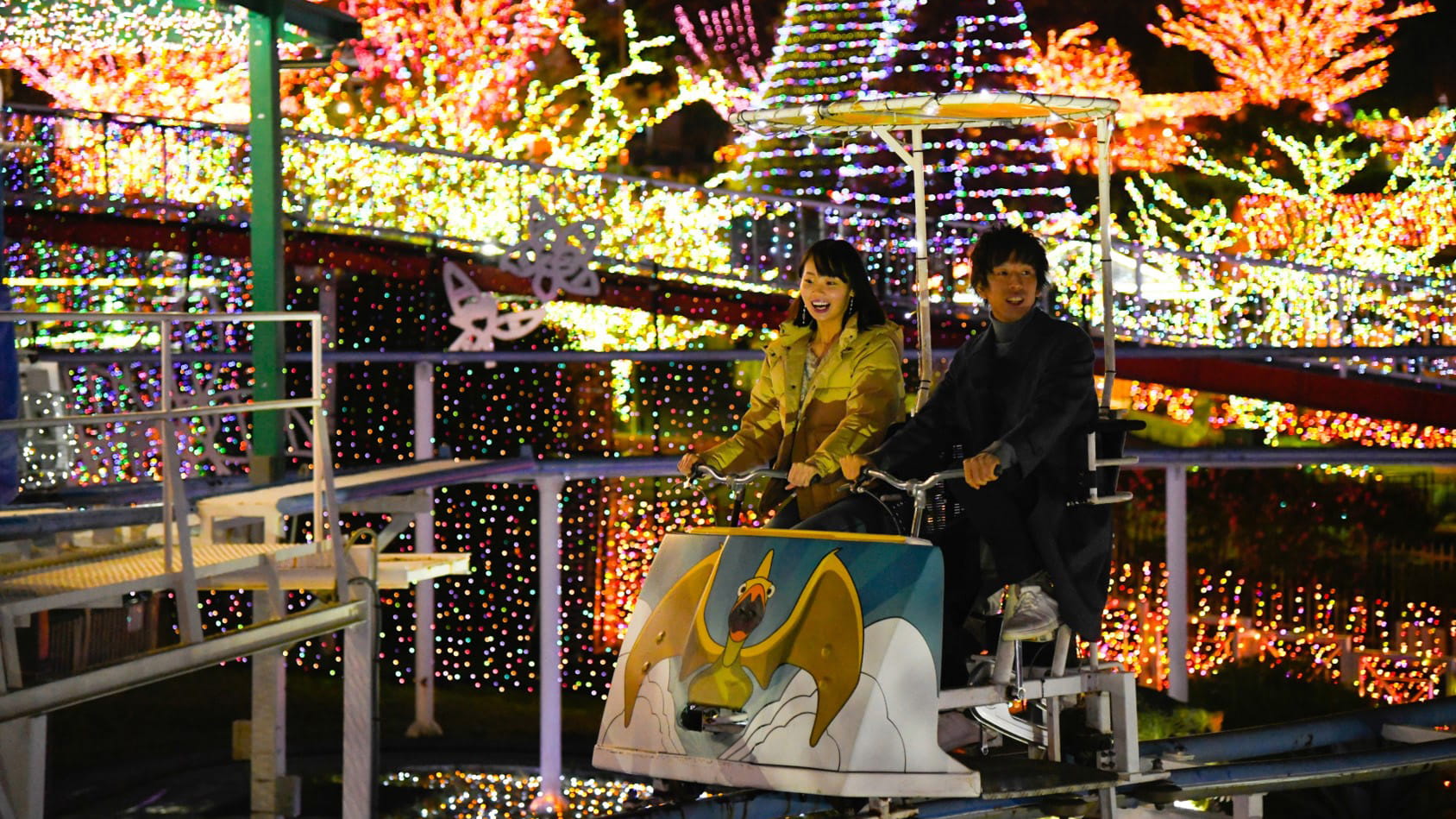 First up is a strategy meeting at a restaurant!
We talked about what to do, like "Where should we go?" and "I want to ride this one!"
1. Whimsical Restaurant "Goodday"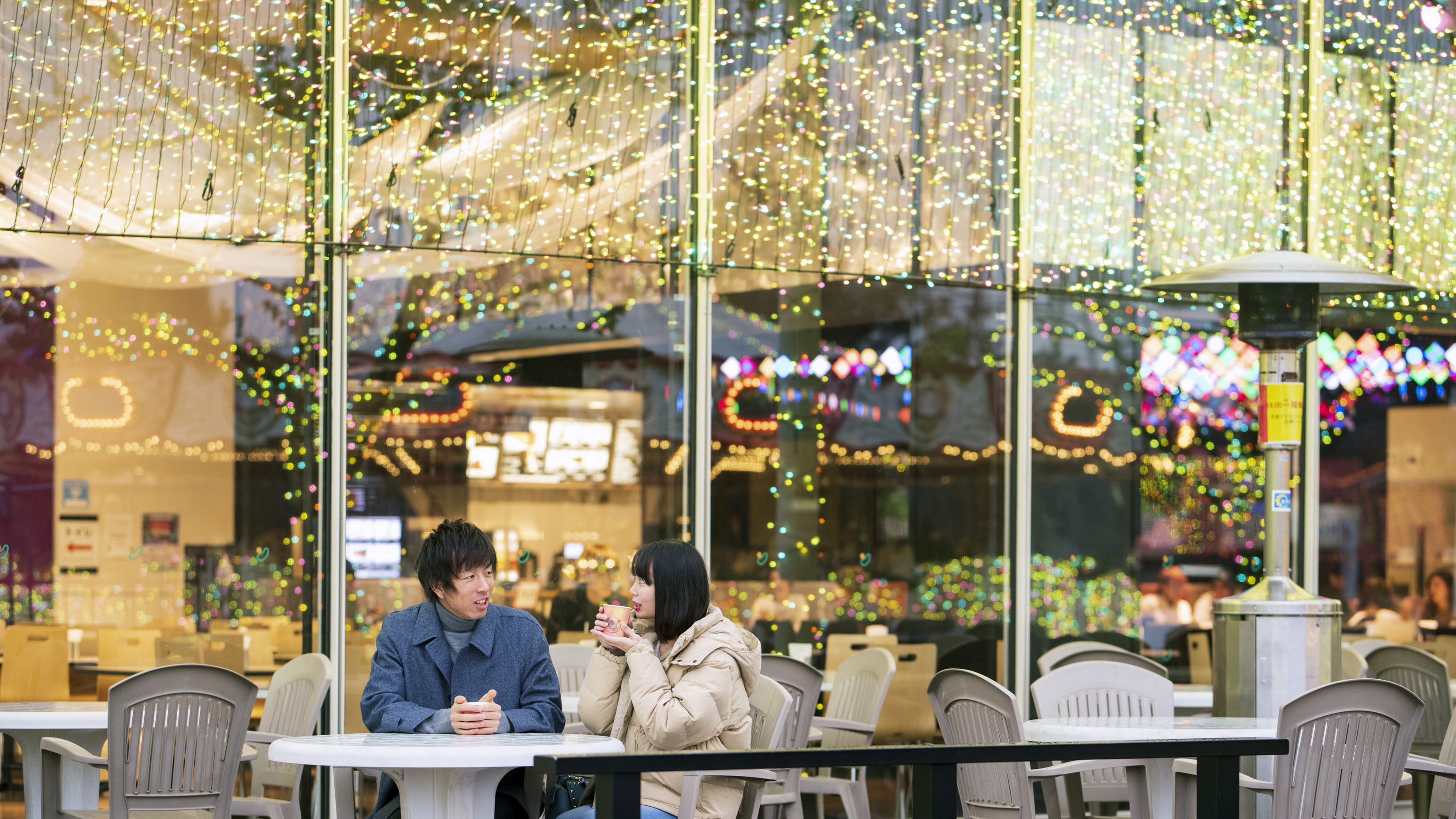 This restaurant features beautiful chandeliers lit with cutting-edge organic EL lighting, and it's a great date spot! Their menu is vast, with a focus on Western cuisine.
When it hits 4:00pm, the time that Yomiuriland starts its illuminations, the park undergoes a beautiful transformation!
The original LED lighting that offers guests a look at one-of-a-kind "glittering jewel-toned lights" uses 6.5 million bulbs! We both were absolutely taken in by Jewellumination.
Alright, time to head to the attractions!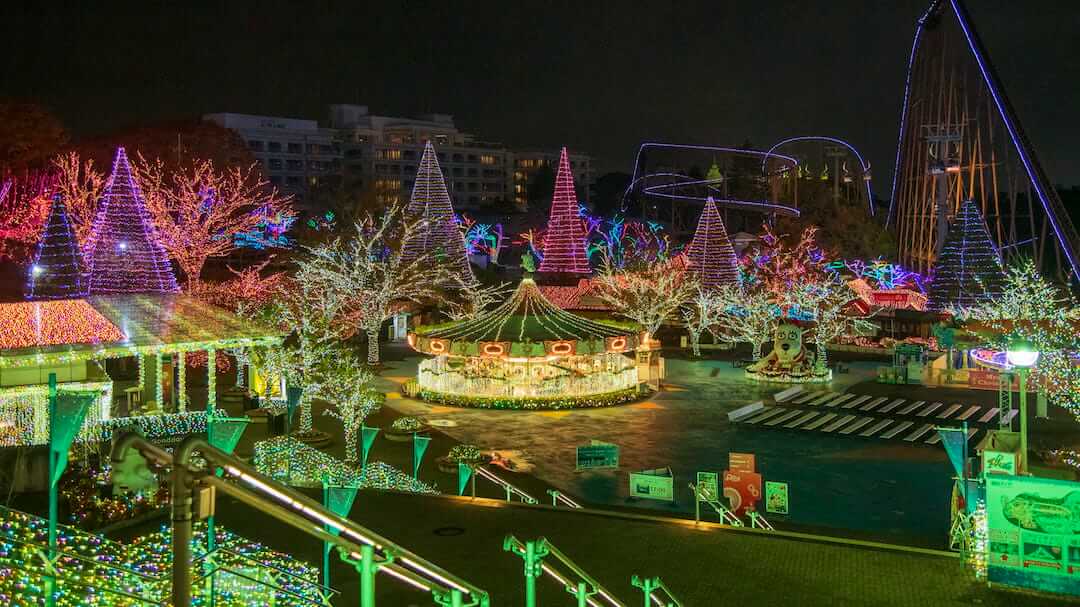 2. Ride Along the Rail by Pedaling on "Ptera Cycle"
You can see a panoramic view of the illumination across many areas from this ride! The night view and specific sights are spread around you wherever you look, and if you're lucky you can even spot a fountain show in the neighboring area!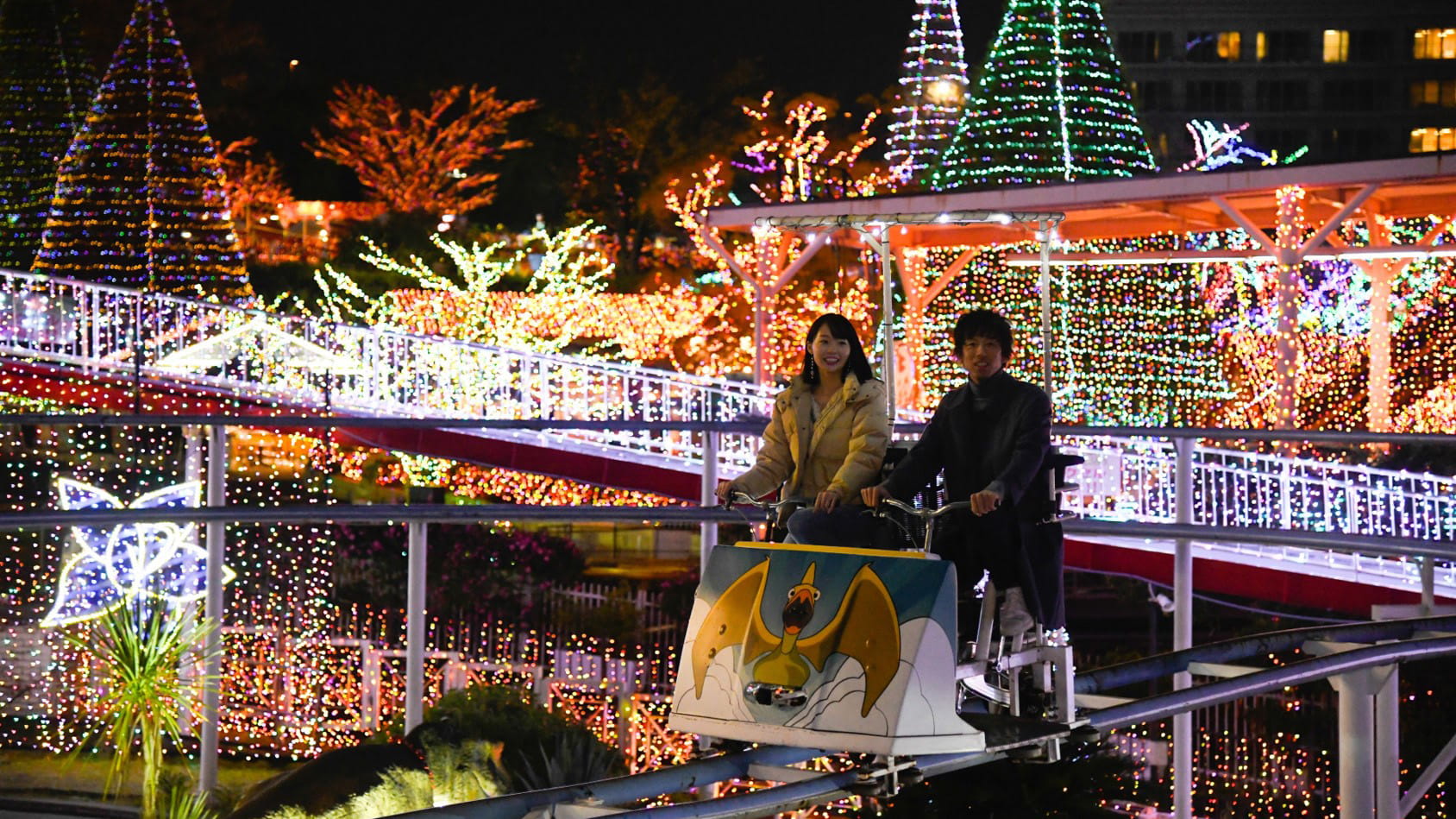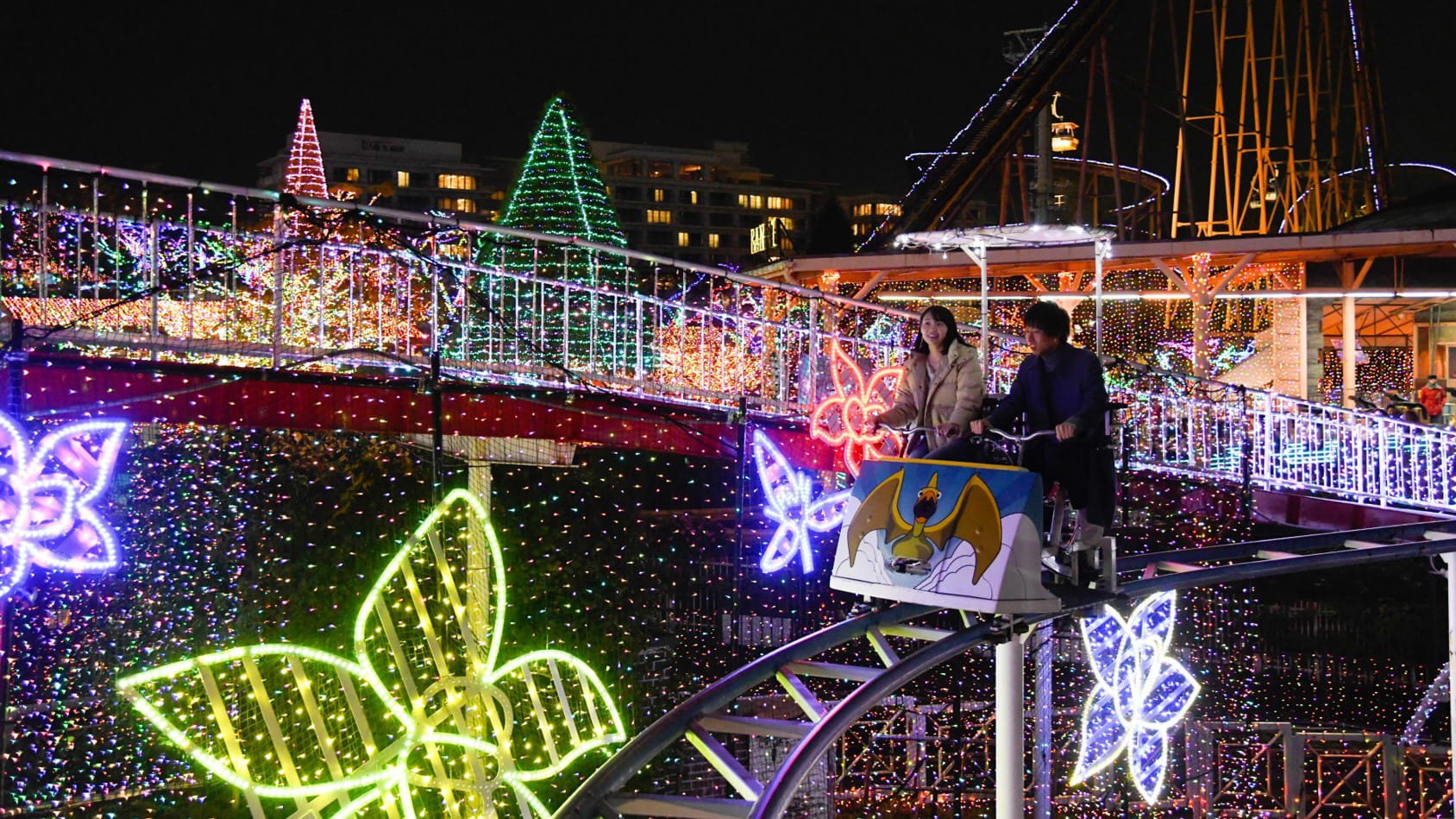 3. Tree-Lined Path of Light
This beautiful tree-lined path has different colored lights on each branch. As we walked side by side, it was like strolling through a dream.
This fantastical and sprawling shot is sure to be a hit on social media!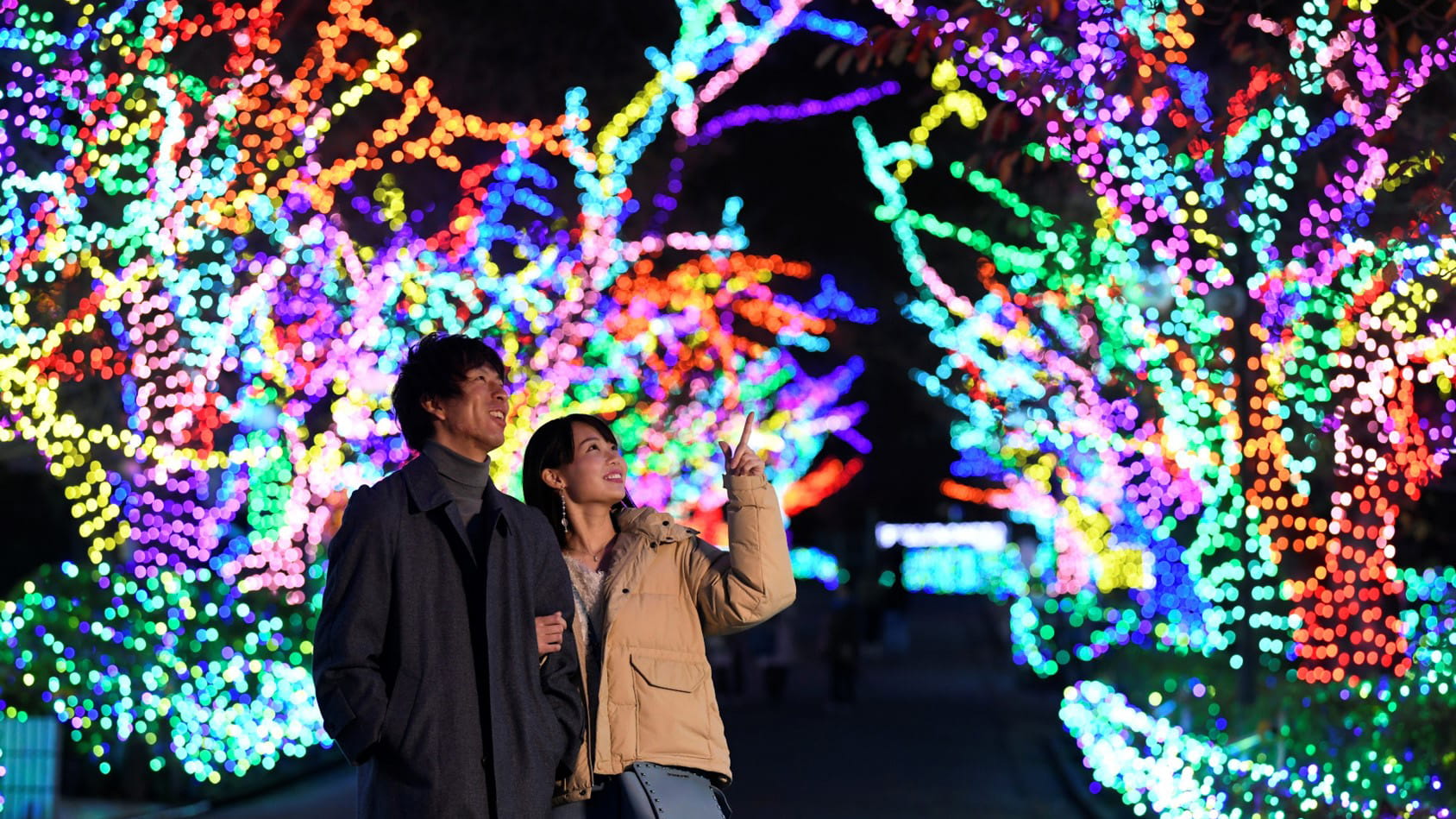 4. Tunnel of Light "Spiral Passage"
Illuminations are set up in a spiral formation in this 140-meter-long tunnel!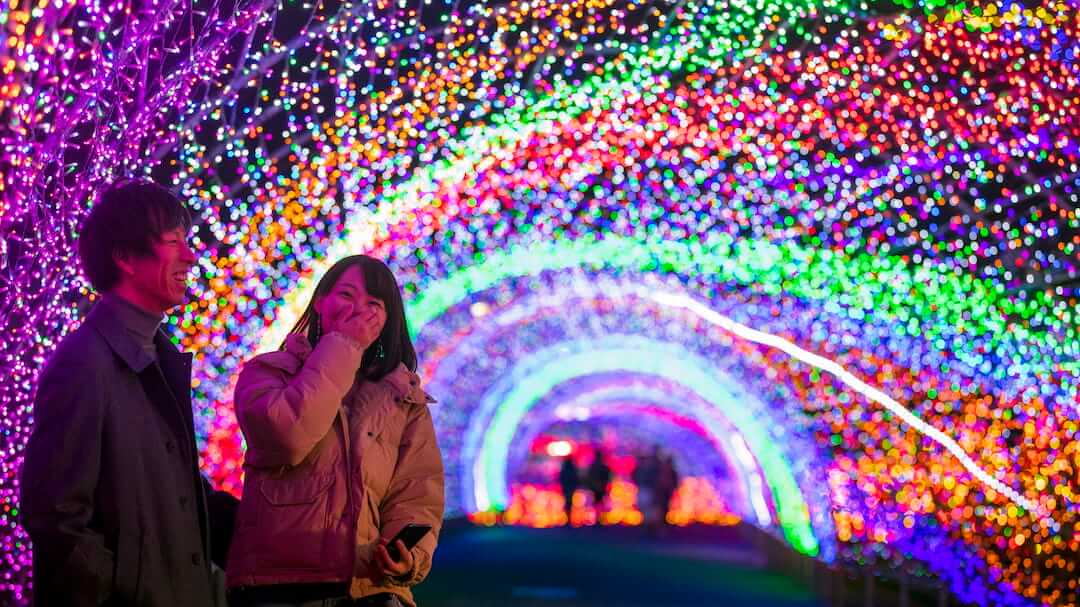 It feels so unusual, like going on a journey across time and space!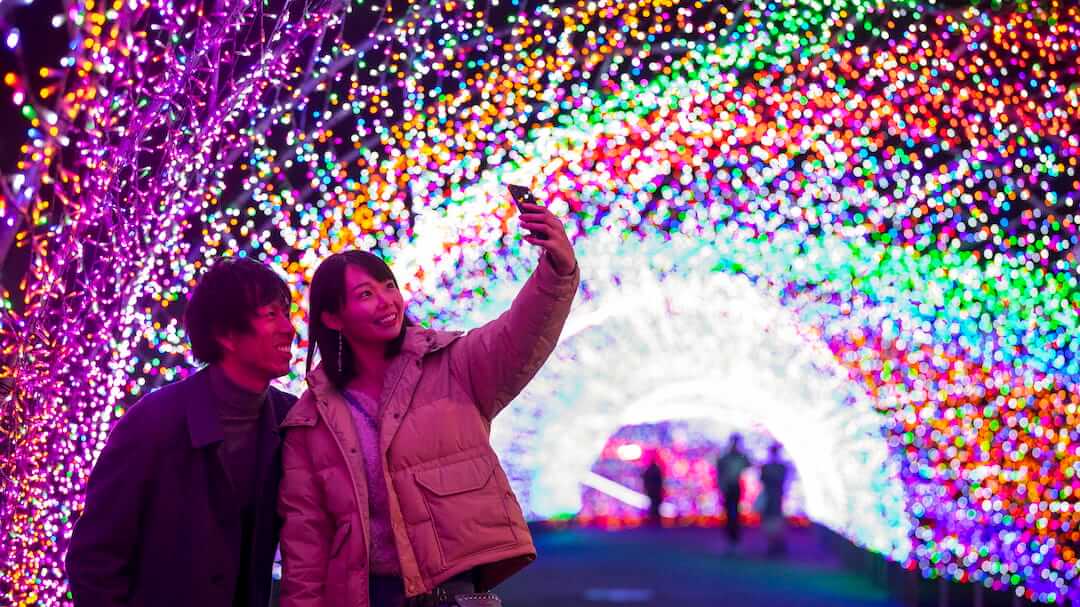 The best photo op here comes at the moment where all of the jewel-toned lights are lit up at the same time. Keep your camera ready, and take lots of pictures as the light swirls up from behind you! It's sure to be a great shot for social media!
When we were taking photos, the countdown started and led up to a shout of "lights on!" The dancers all jumped, and the trees that had faded into the twilight suddenly all lit up!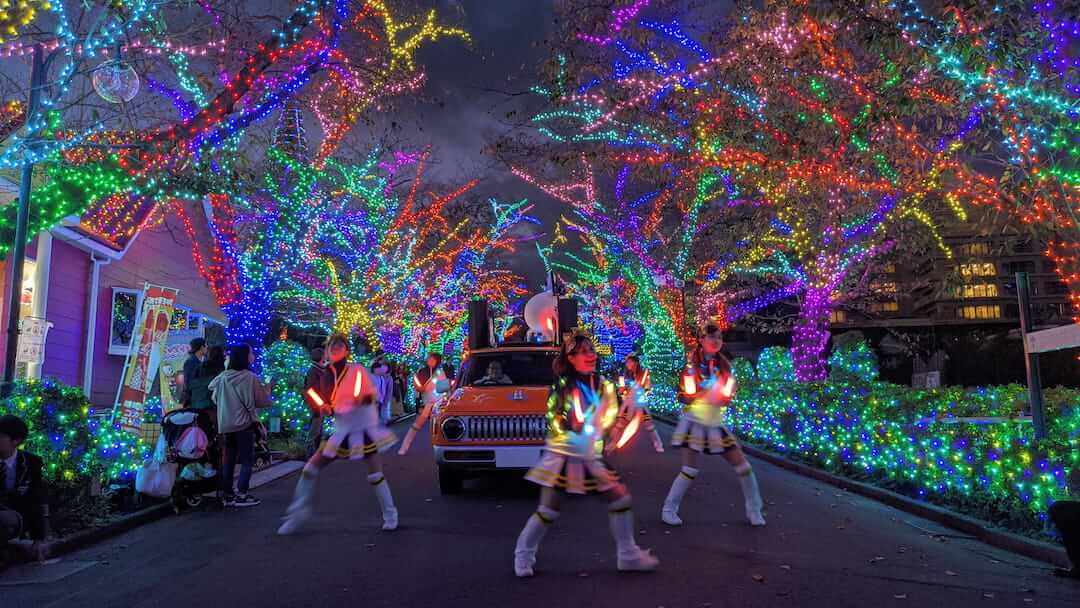 A row of cherry blossom trees breaks into dance alongside light-hearted music and dancers!
Be sure to take in this once-a-day chance as a couple, surrounded by the glimmering of 400,000 jewel-toned lights!
6. Wan Wan Coaster "Wandit"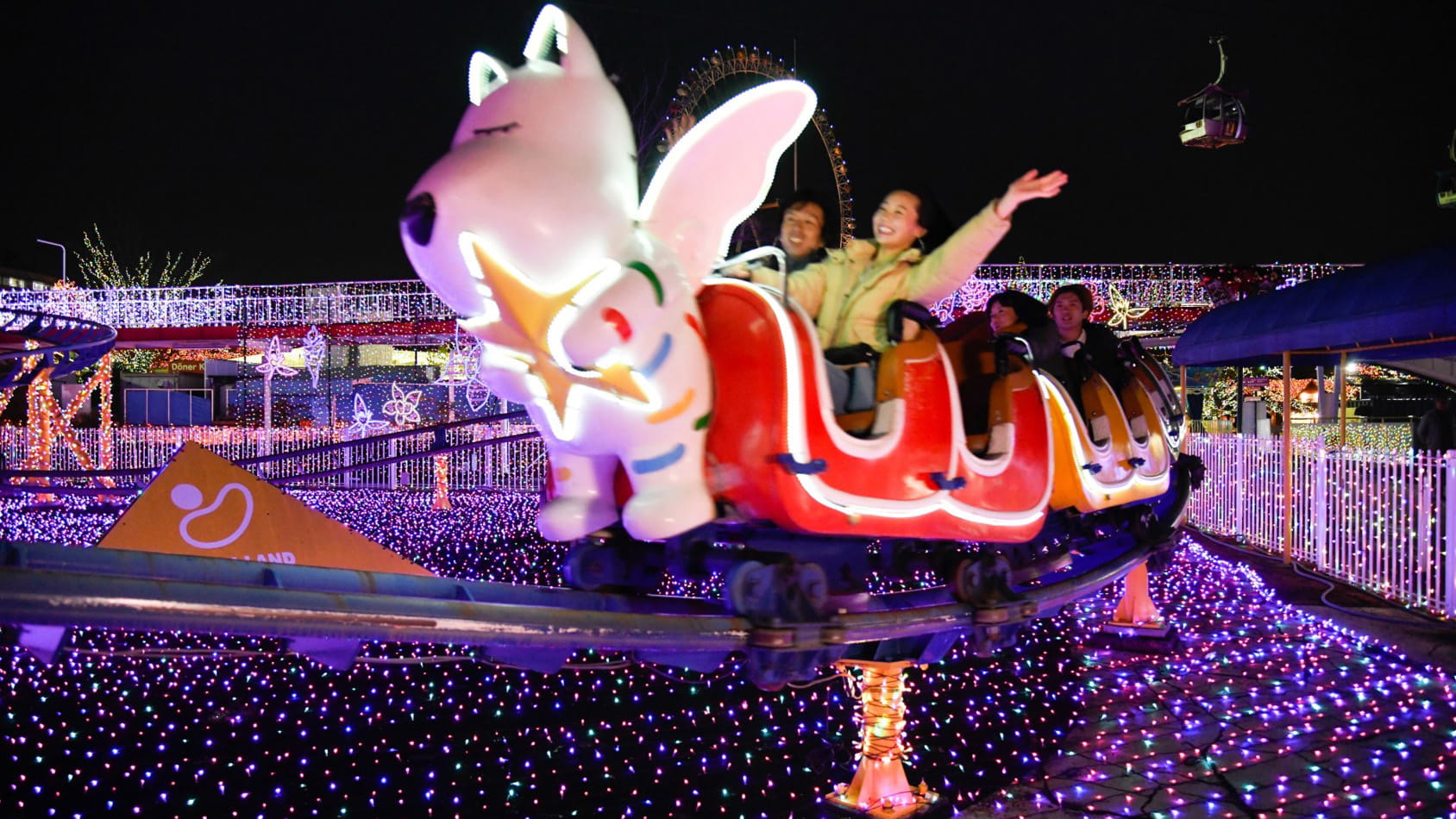 The dazzling Jewellumination continues beneath this roller coaster's track! This extremely popular ride is a great chance for adult guests to enjoy a romantic atmosphere and some light excitement.
This enormous Ferris wheel is a popular and classic attraction. However, it transforms into a completely different experience at night! As you slowly rise and fall along the rotation, Jewellumination and Tokyo's night view shift around you. You can even see Shinjuku's skyscrapers, the Rainbow Bridge, and the lights of Tokyo Tower.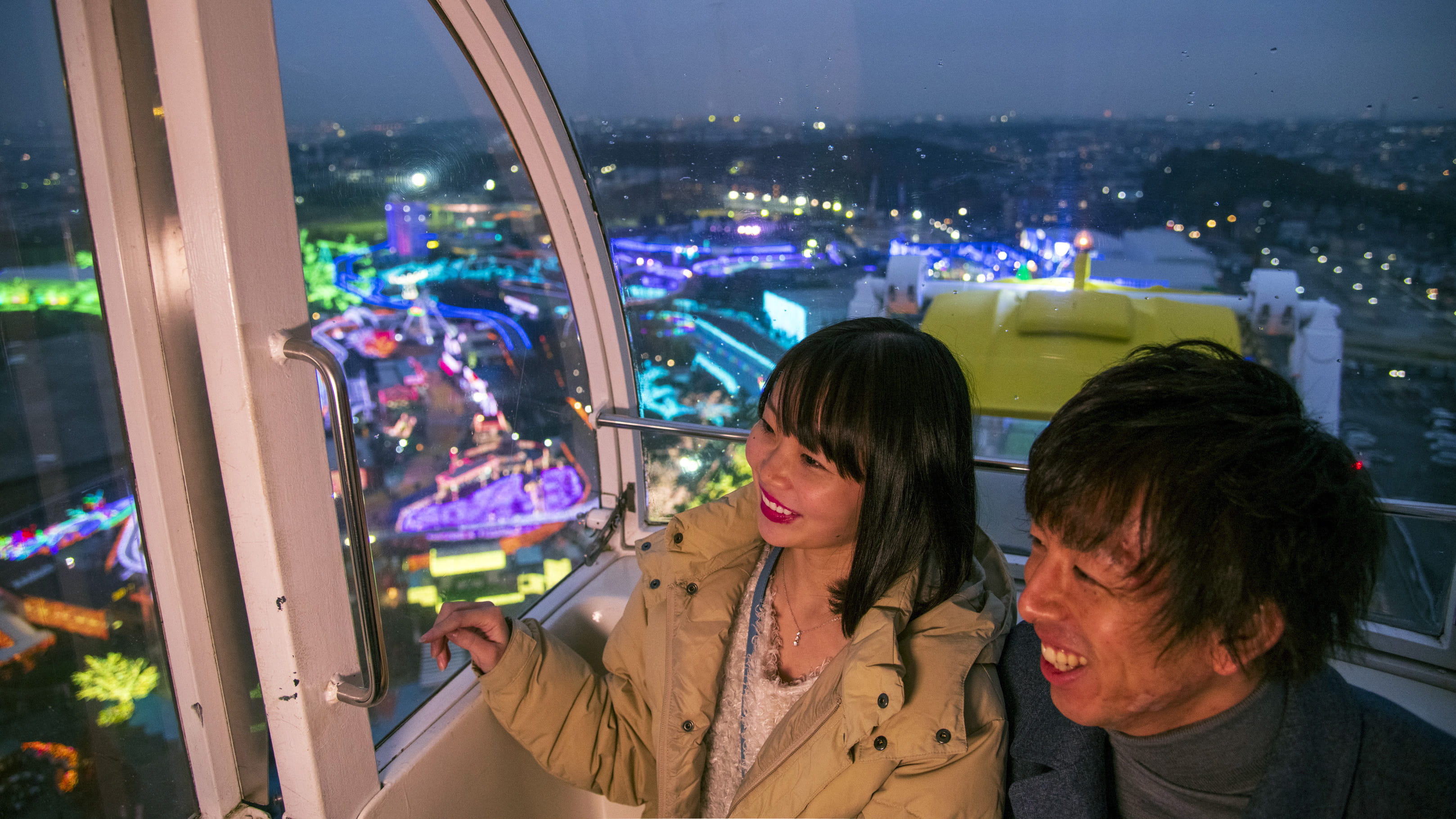 A beautiful night view as time slows for just the 2 of us.
8. Flying Swing "Milky Way"
This fantastical experience lets you fly through the night sky while surrounded by lights!
A huge point of appeal for this attraction comes from that you can look at your partner's expression while you ride. It's such a lovely experience to see each other smiling while you fly around in the lights.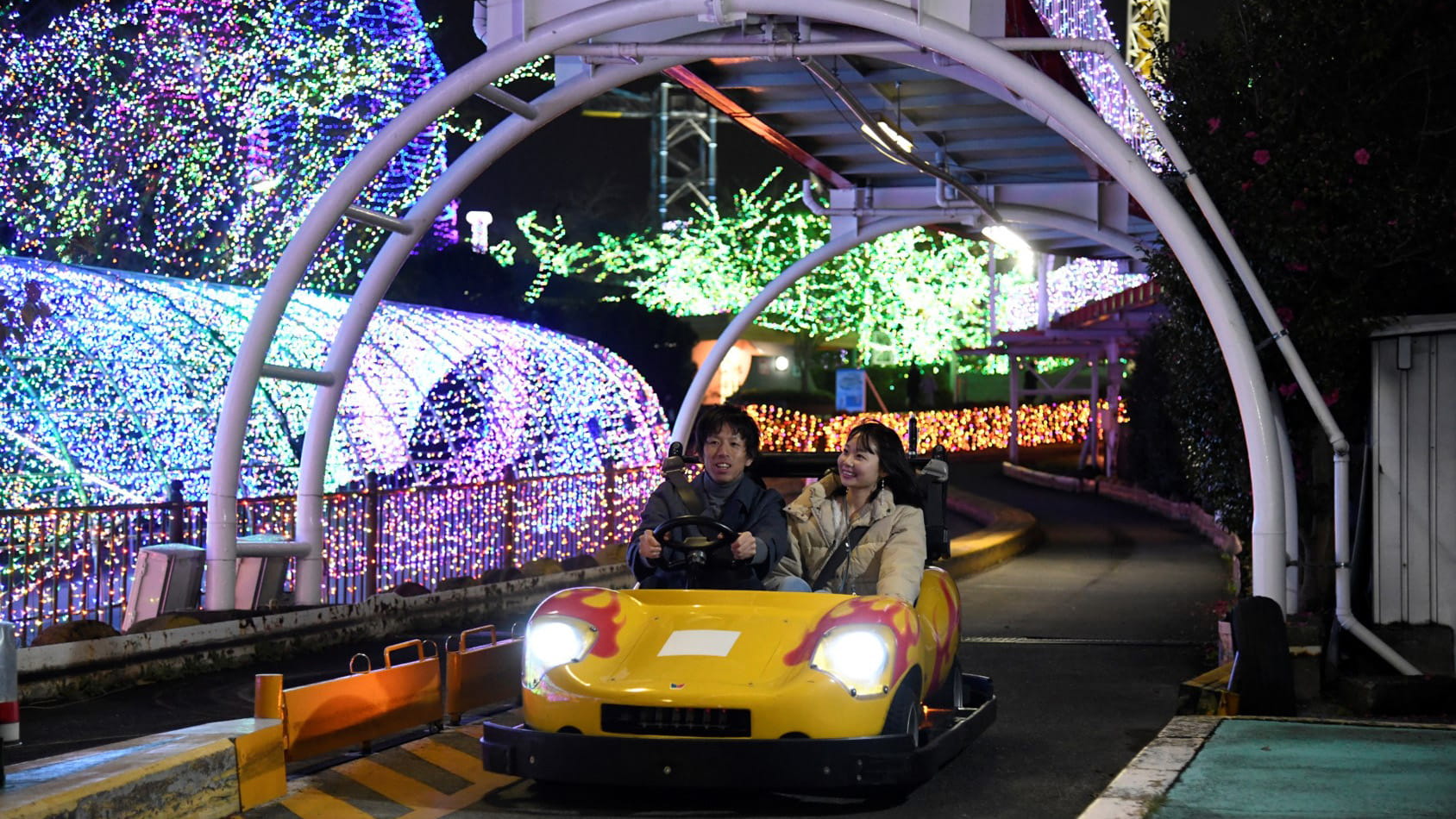 The family course is full of twists and turns, and it's worth taking for a spin. Go for a drive just the two of you, surrounded by a world of lights!
This colorful merry-go-round is super cute and fun!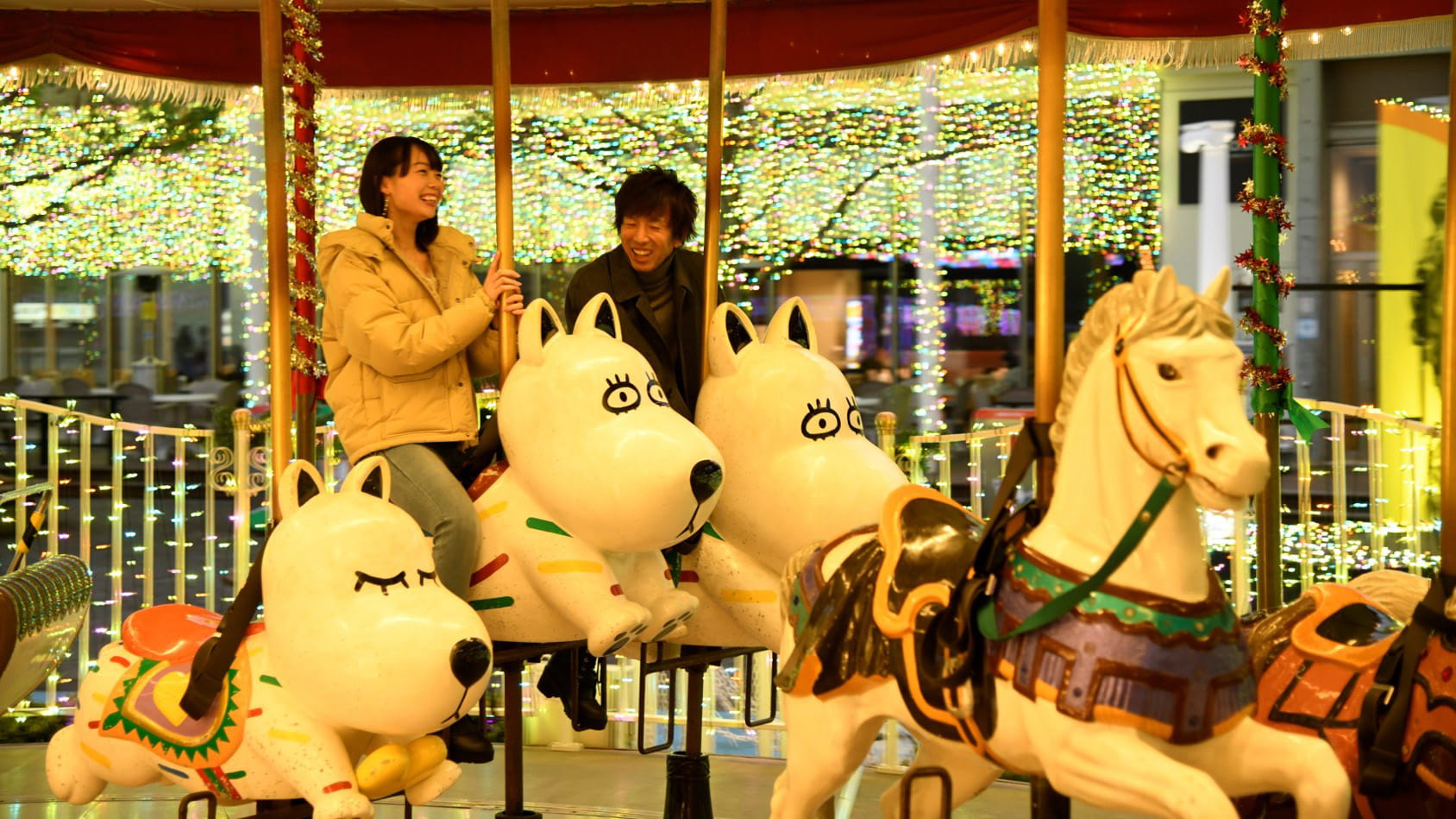 Smiling together among the twinkling lights.
Put on a two-person ice skating performance together, surrounded by white lights and fantastical lights that make it feel like an ice show!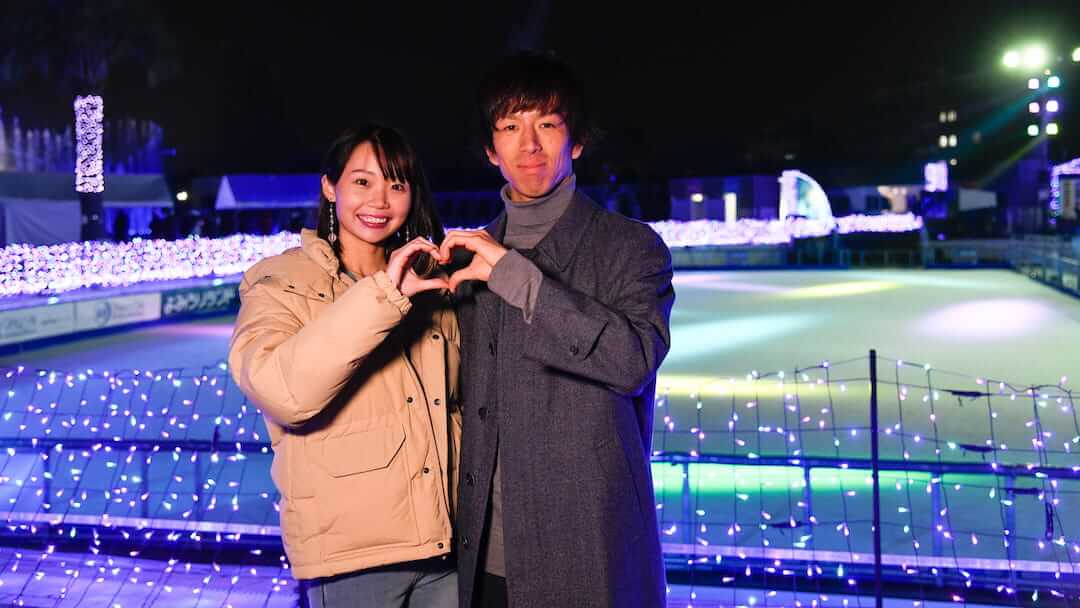 The vast ice rink is surrounded by the Jewellumination, and as you hold hands the romantic mood reaches its peak.
12. Jewelry Slope "Tube Slider"
Sliding down this illuminated slope on a sled makes it feel like you've almost become one with the lights!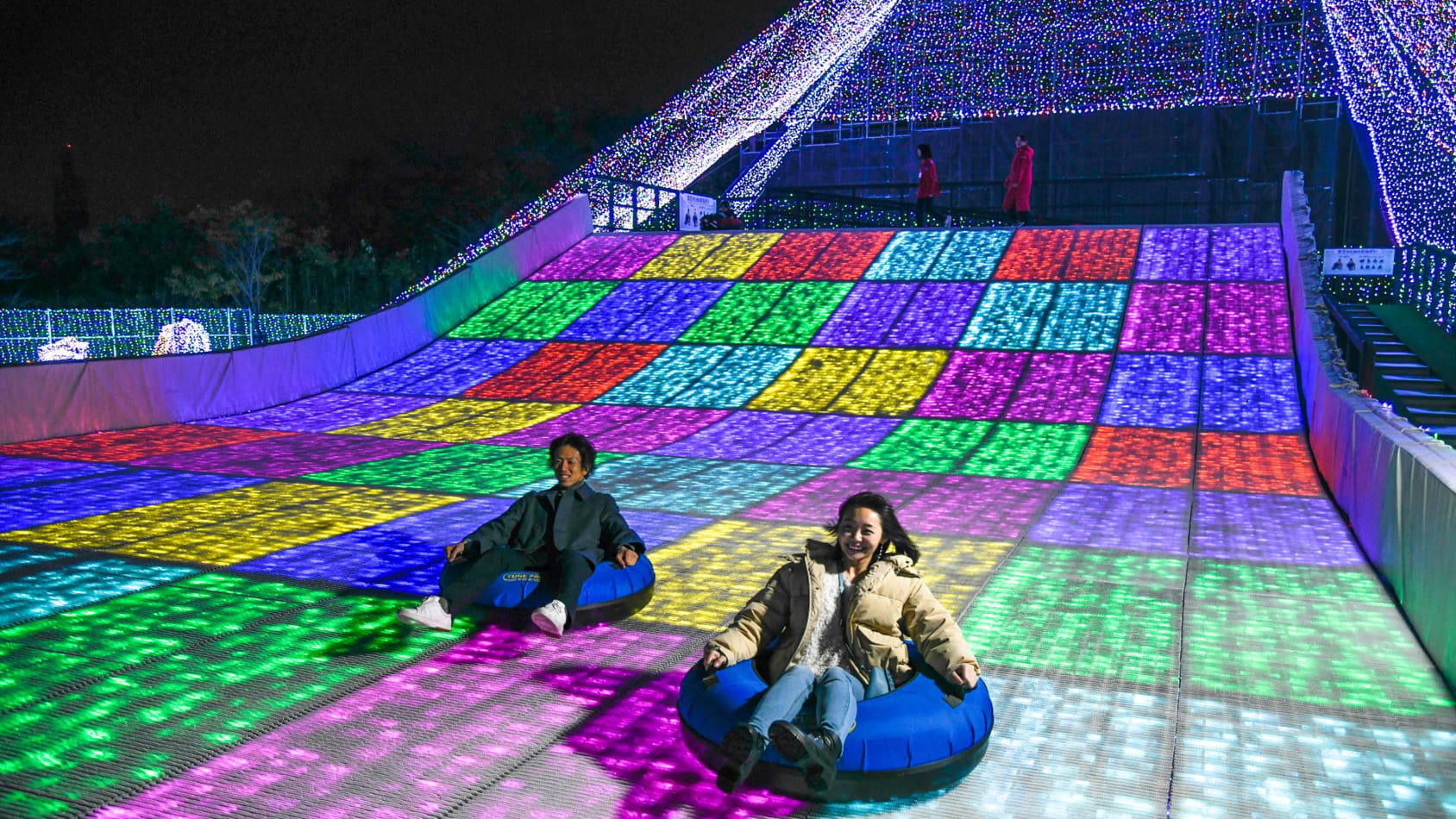 A completely new experience!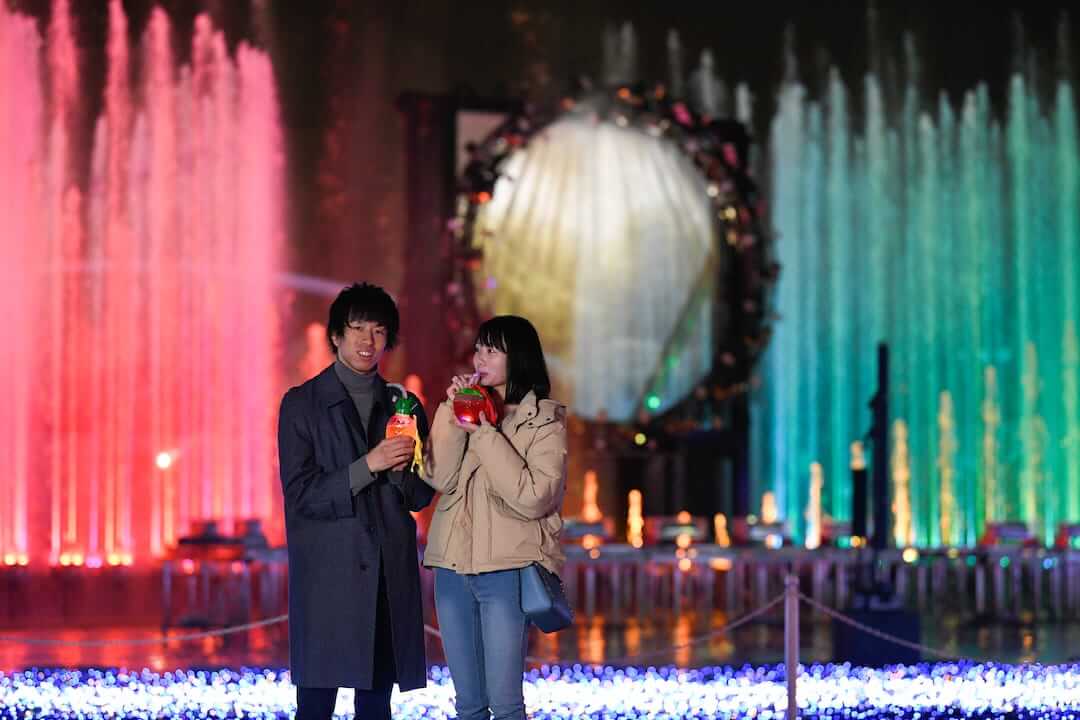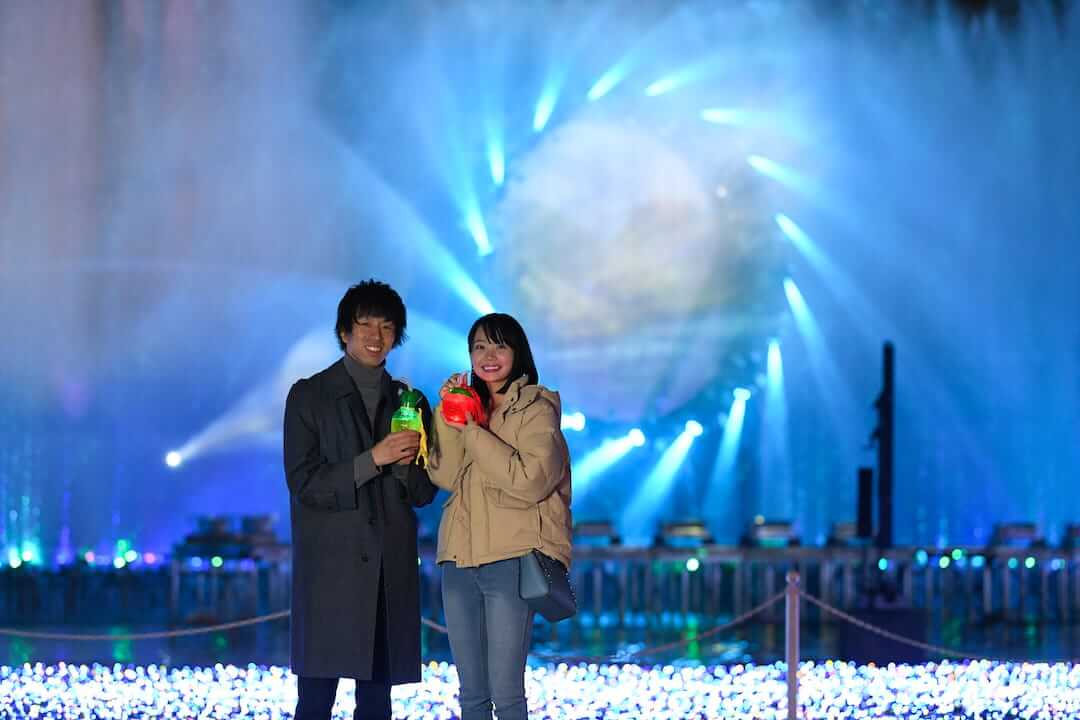 Every 15 minutes starting at 5:00pm one of 3 fountain shows is held.
We were completely entranced by the thrilling fountain shows blending water and lights, a unique experience to Yomiuriland!
※Fountain shows will be held until April 5th, 2020
☆Recommended Item "Bright Fruit Cup Drink"
This light drink comes in a super-cute pineapple cup! It cutely shines as you walk around and drink!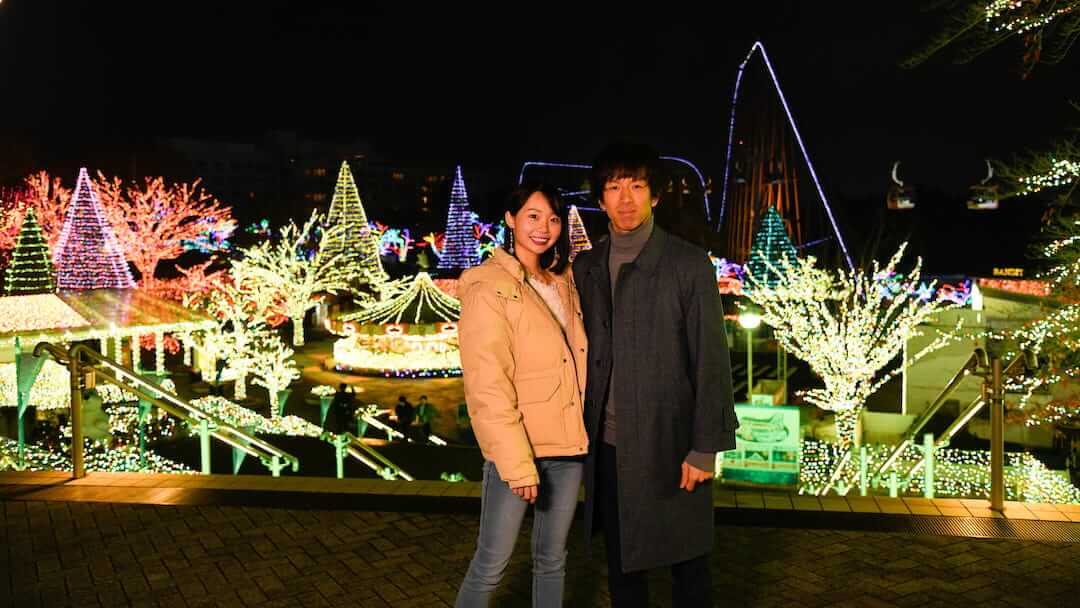 Our date turned into an unforgettable jewel-like day!
Click here for details on Yomiuriland's illuminations
14. A Romantic Trip Back! "Sky Shuttle gondola"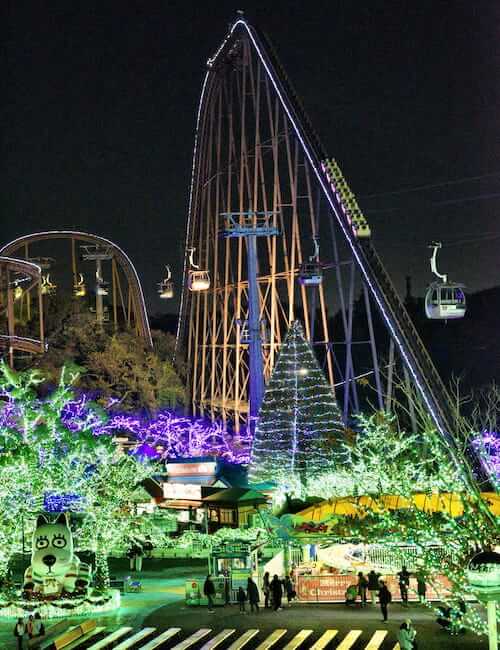 Our dreamy night isn't over yet! We took the Sky Shuttle, which runs between Keio-Yomiuriland Station and the amusement park, and we were able to head home while looking out over the illuminations. End your romantic night with a stroll through the sky!
Click here for Yomiuriland Enjoyment Guide – For family