Special Spot
Highlights
New colors will be released reflecting the theme for this season 'LIGHT IS HAPPINESS!' The beautiful warm-colored gemstones are featured that will invite happiness - amber, ruby, citrine, garnet and golden beryl.
The orange-hue illumination is as if the sunshine is scattered all over, delivering gentle and happy ambience.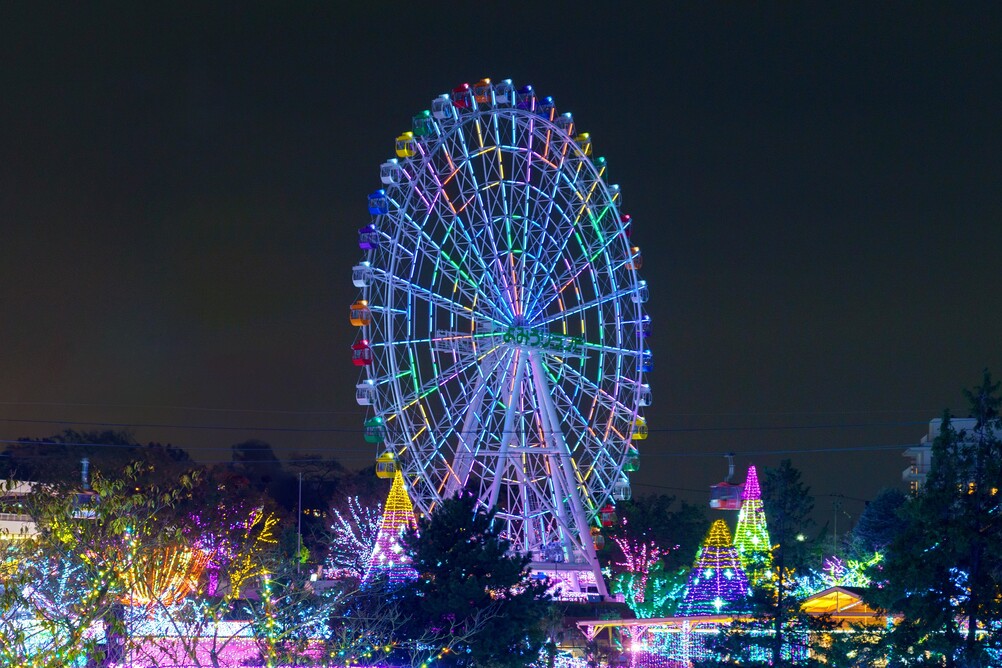 Giant Ferris Wheel is visible from inside and outside the park. It will be illuminated as the grand icon to express this season's theme 'LIGHT IS HAPPINESS!'
In the image of 'sunrise' - the beginning of bright and happy days - the top half of the Giant Ferris Wheel will be lit in gold, the bottom half, in orange.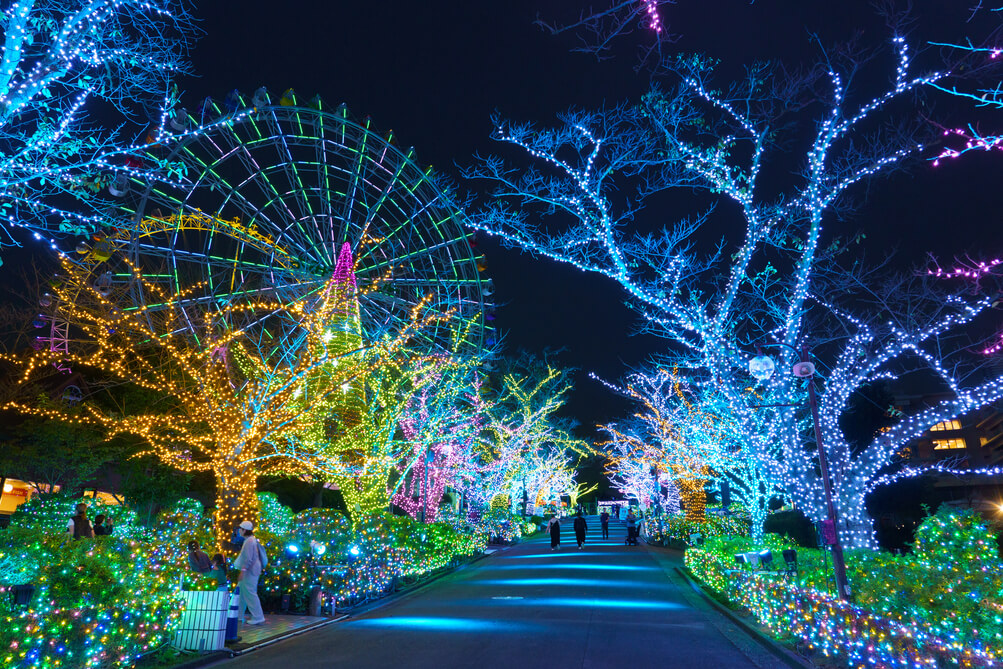 Along the 180m-long promenade, each tree will be decorated in two colors.
LEDs in various gentle colors are arranged deliberately, making this area a blissful spot surrounded by mellow illumination.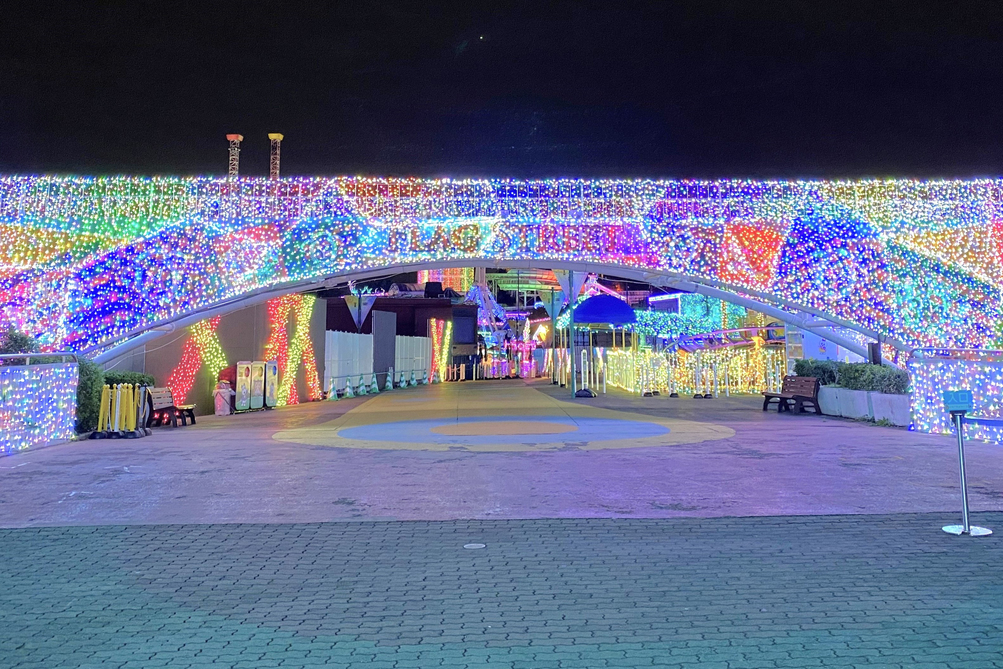 03
Crossing・Sapphire・Passage
The Light Tunnel is a charming regular stop in Jewellumination with an array of colors criss-crossing brilliantly.
For this season, the tunnel will be decorated in sapphire tone to accentuate other colors, sweep away restlessness, and turn the place into a soothing space.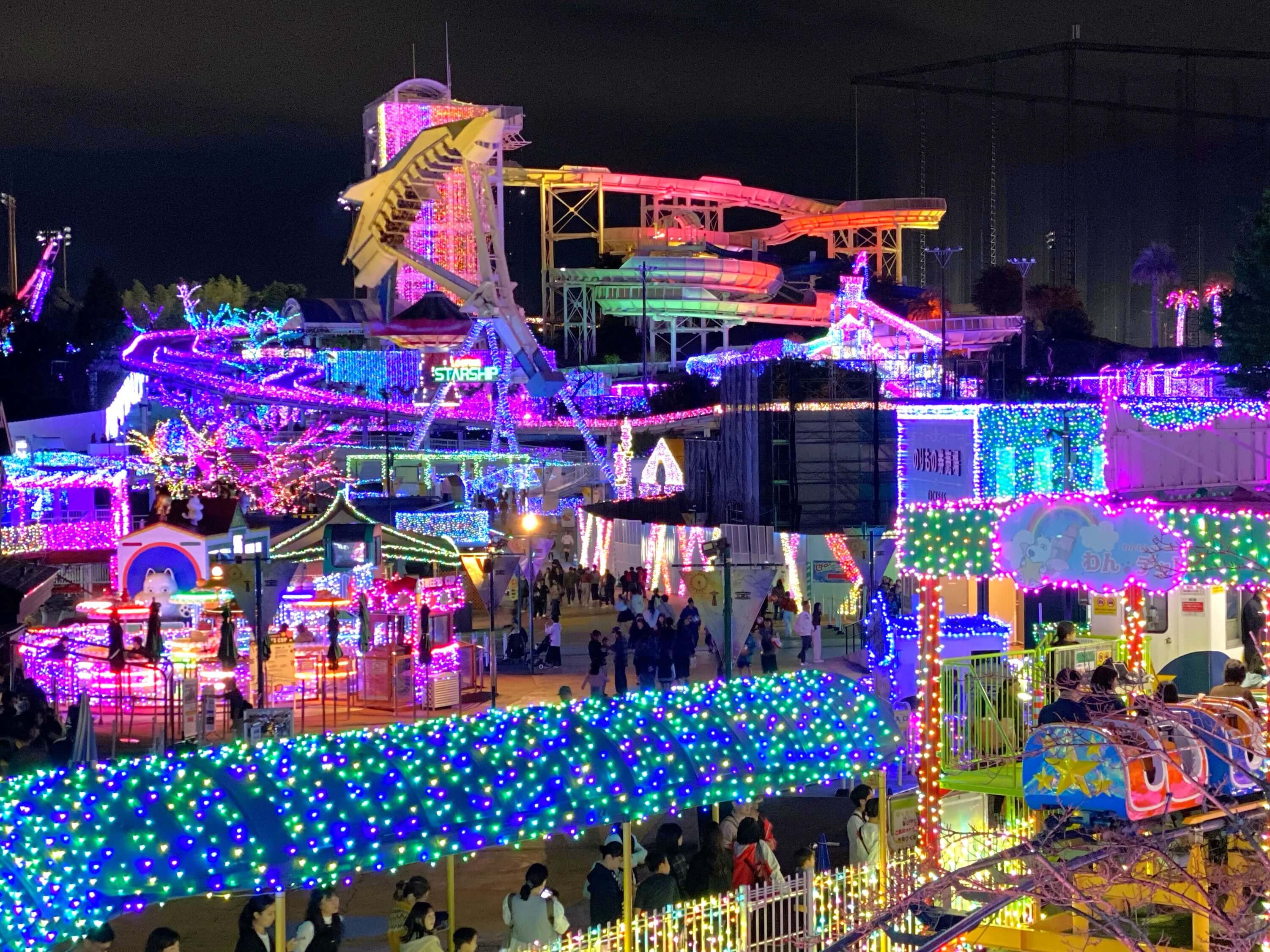 The entrance on the main street will be illuminated with warm colors in the image of sunrise.
The welcome gate will greet you all with a wish that your new day will be fabulous.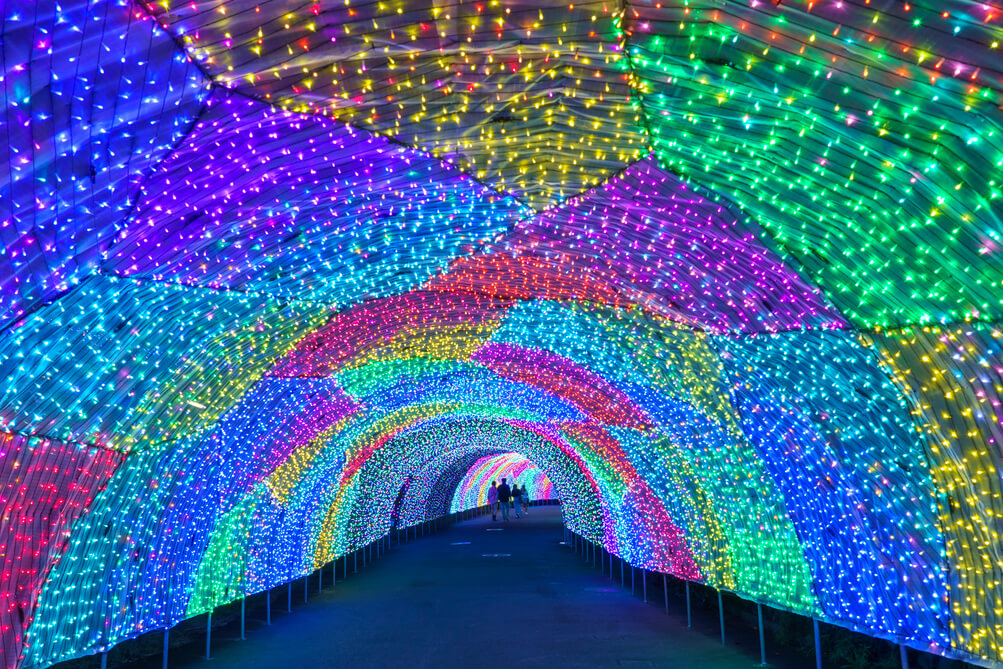 05
Colorful・Jewellery Town
The dazzling spot is filled with many attractions decorated in a variety of jewellery colors we have created.
It will make you feel like you have entered a toy box, filling you with excitement.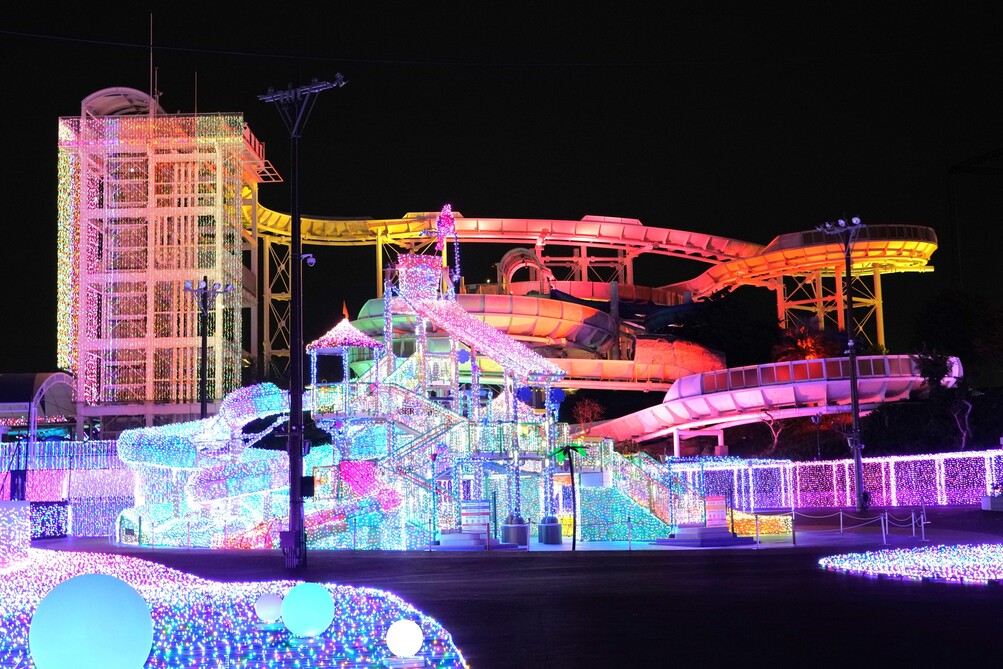 This plaza in front of the Lan Lan Hall has a different look each year. This year's decoration features the symbol of happiness, horseshoe, combined with colorful gemstone patterns.
The horseshue is believed to be a lucky charm in Europe since the Middle Age when it is decorated with the opened side turned up so it will catch blessings. At the plaza, we put up the horseshoe, hoping that it will secure the lucky gemstones and bring happiness to you.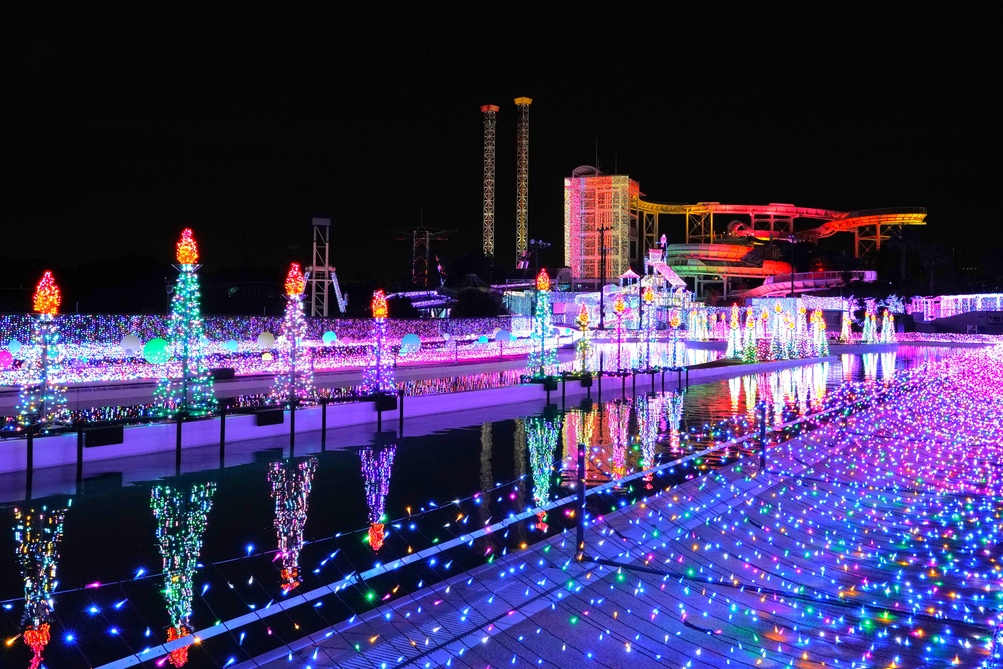 The attraction 'Giant Sky River' is decorated with illumination to make a 25m-tall bright tower.
This season, we will turn on the evening rainbow 'Moonbow' in the dark sky which will invite happiness with the seven colors.
The long alley leading to the Fountain Show area will be lit up with colorful and pop illumination in the shape of piano keys.
With the lovely original piano tune, the elegant alley will be waiting to soothe you.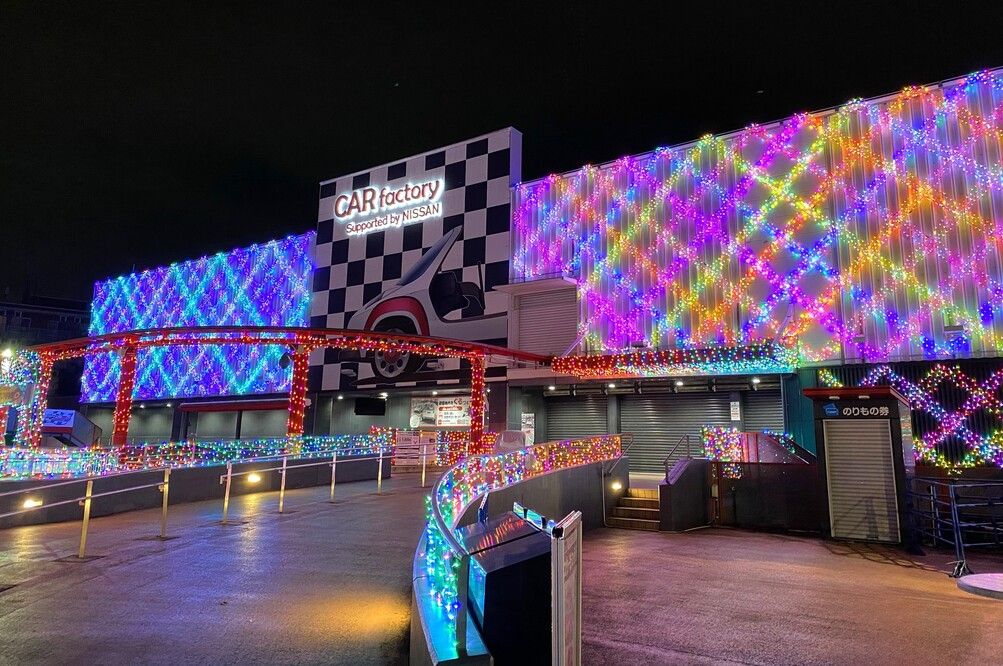 The flowing pond with the four-leaf clovers. The 1st leaf means hope, the 2nd, honesty, the 3rd, love, and the 4th leaf, good luck.
The light brightly reflects on the water, making you feel peaceful as if you have stepped into a clover field.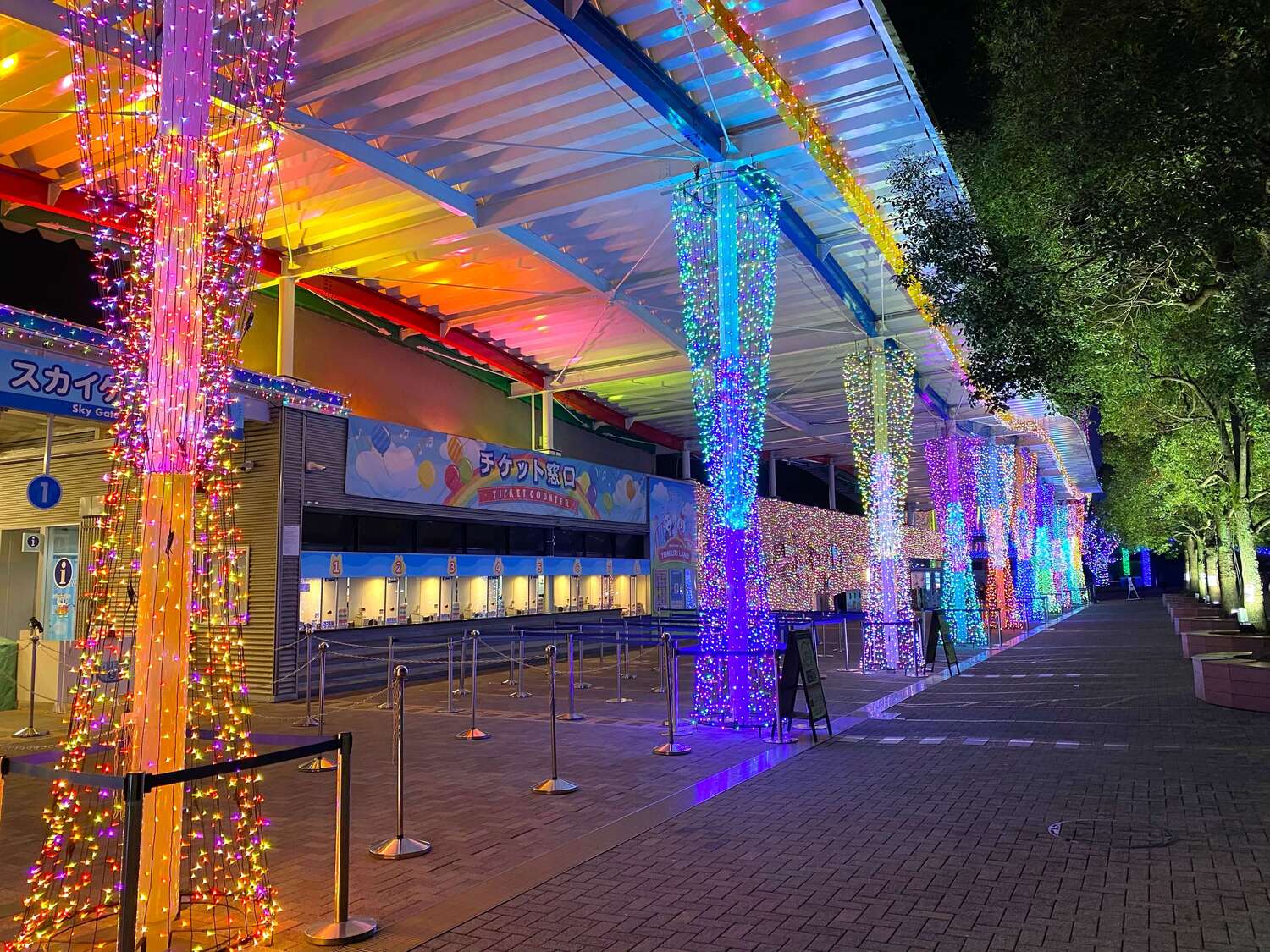 'GoodJoba!!' Area's walls will be lit up in stripes of jewelry colors.
The illumination reminds you of multicolored picnic blankets, cheering and elevating your mood.
#Check out Yomiuriland!

Instagram