FOOD & GOODS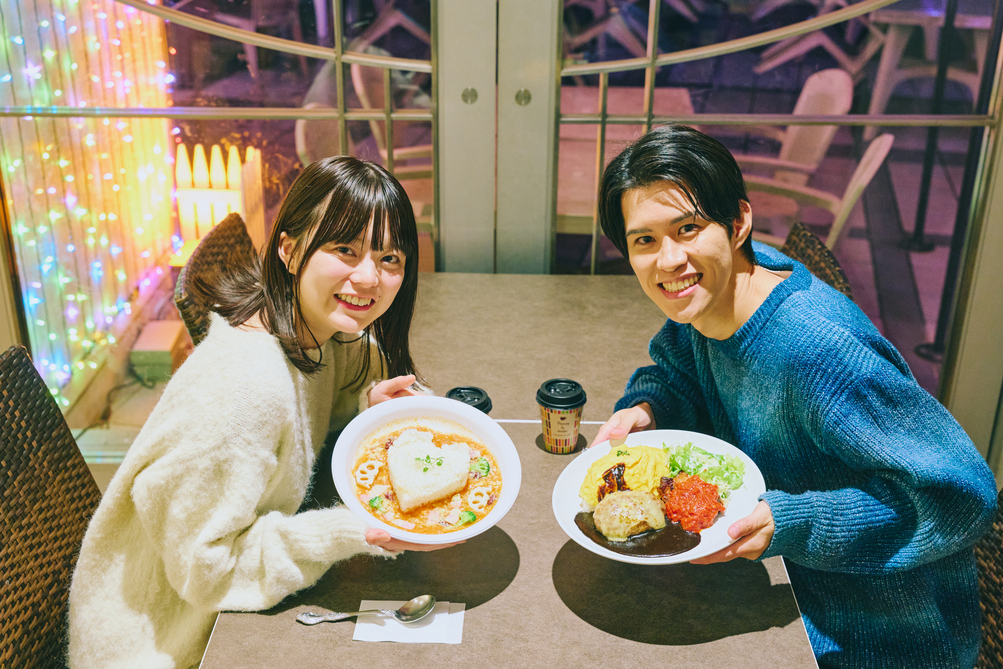 Limited-Time Jewellumination Menu
Shimmering Happiness: Pasta with Shrimp in Tomato Cream Soup

Pasta in a rich and flavorful shrimp and ripe tomato sauce, topped with shaved Parmesan cheese. This is a limited-time Jewellimination dish that warms both the body and the soul.

Happy Jewelry Omelette Rice
- With Rich Shrimp Tomato Cream Sauce -

A limited-time Jewellumination dish of omelette with chicken rice topped with a rich and creamy tomato cream sauce.

Spicy Chicken & French Fries

Spicy chicken topped with a hearty tomato-garlic sauce. This is a must-try item for this winter season.

Rainbow Waffle Stick

A Belgian waffle topped with maple syrup and whipped cream. Sparkling rainbow sprinkles make this one-handed treat perfect for Jewellumination.

Jewellumi HOT Chicken (Iruchiki)

Freshly fried karaage chicken with hot sauce and Jewellumination-inspired colorful okaki (Japanese rice cracker). It's a great dish for a quick snack.

Jewel Marion

A special crepe filled with hearty custard, whipped cream, cheesecake, and other popular ingredients in Marion crepes, available only at Yomiuriland.

Loaded Potato

Everyone's favorite French fries with meat sauce and cheese. We bet you'll become addicted to them!

Jewellumi Whipped Wine

Glühwein, a German winter specialty, topped with whipped cream and colorful sprinkles! This sweet mulled wine is an alcoholic beverage that will warm you from the inside out.

Lan Lan Avocado Burger

A spicy burger made with vibrant beets and avocados. This hearty burger will please both your stomach and your mind.

Meal set with fries and a drink: 1,600 yen
(Burger only: 1,200 yen)

Fried Calamari Sandwich

A recreation of the soul food of Madrid, Spain. A hot sandwich loaded with freshly deep-fried calamari.

Magical Hot Tea

This Butterfly Pea Flower Tea is sweet and easy to drink, making it ideal for cold days. Enjoy watching it magically change colors.
※The menu is subject to change without notice. Also, please understand that sales might end.
※Please refrain from eating or drinking while participating in our attractions.
Limited-Time Jewellumination Merchandise
Happy Cheesecake (5 pieces)

A special treat with savory cheese aroma and moist, fluffy sponge! It comes with a special package of this season's Jewellumination design.

Jewellery Gateau (5 pieces)

Jewelry box packaging is ideal for a Jewellumination souvenir! This box of chocolates comes in five different flavors: orange, strawberry, blueberry, white chocolate, and milk chocolate.

Milk Chocolate Crunch (10 pieces)

Milk Chocolate Crunch is extremely popular every year. The bag-style package is adorable!

Light-up Lollipop (strawberry and soda flavors)

The lollipop is shaped like the face of Yomiuriland character Good. Enjoy the Jewellumination with the flashing light.

Clear Document Folder

A staple souvenir item! It's A4 in size and easy to use, and it features the main visual from this season's Jewellumination.

Phone Charms (2 styles)

It's a popular collectible! The phone charm is very popular every year. It's available in a choice of heart-shaped or round-shaped.
#Check out Yomiuriland!

Instagram